Back to Home
Daredevil couple hang off from a cliff edge at 3,000 ft height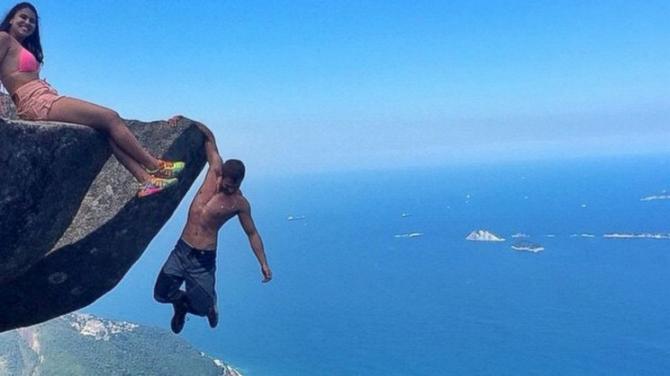 Rio De Janeiro: The stunning backdrop of Rio De Janeiro was almost in breathtaking moments by the dangerous actions displayed by young couple.
These daredevil couples are absolutely thrill-seekers.
They had been taking their lives into their hands as they were hanging off a toothed rock located at a height of almost 3,000 ft which overlooks straight into the ocean below.
Their actions were really breathtaking moments for the viewers.
But during the risky actions performed by Leonardo Edson Pereira and his girlfriend Victoria Medeiros Nader, they were really enjoying the breeze by hanging down themselves from the cliff.
Leonardo Edson Pereira, who is only 23 years, looked just seconds away from slipping a certain death.
He was clinging down from the cliff in a very dangerous fashion by holding the cliff edge with just one hand.
His 18-year-old partner who dressed in just a skimpy bikini and hot pants, was dangling her whole lower body over the rough rock face.
Leonardo, from Rio De Janeiro, said that he loved living on such an edge.
He added that he was fully aware about what people thought as it was dangerous and crazy.
Regarding the daredevil actions, Leonardo said that he was enjoying the height while it totally made him feel alive.
According to him the strong confidence that he would not fall from the cliff edge was the secret behind his daredevil actions.
This was not the first life threatening action from his end. Earlier, Leonardo had climbed up the 2,769 foot tall Pedra de Gavea, which stands over the stunning Atlantic Ocean.
Leonardo has now admitted that he was really scared while he was at the cliff edge for the first time.
But, for his second daredevil attempt, he was more relaxed and well planned.
Pedra da Gávea is a mountain in Tijuca Forest, in Rio de Janeiro.
The mountain cliff, which locates at a height of 2,769 ft. makes the spectacular location as one of the highest mountains in the world with the cliff directly protruding to the ocean.
Video on the daredevil actions of the Brazilian couple

Comments