Back to Home
Essential Spices In Your Diet and Its Health Outcomes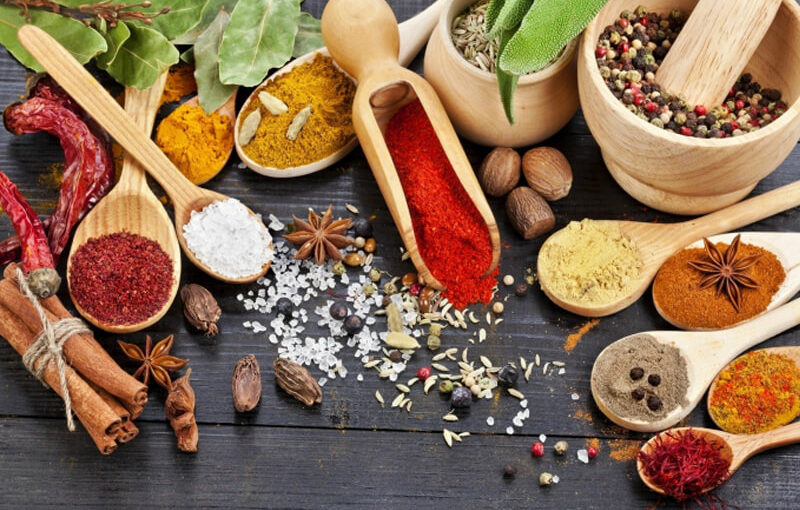 How good would it be if you can lead a healthy diet by just "spicing" it up? Healthy eating need not always be "bland". Now you can add enough spices and still be eating healthy because these spices benefit your health as much as it does to your taste buds. A healthy diet aids to prevent certain chronic diseases such as stroke, heart disease or perhaps even diabetes. It may also contribute to reducing your risk of developing some cancers, can ease pain from post-workout soreness and clear your arteries. You could now give a punch to your lunch, dinner or breakfast with these everyday flavours. But where flavour and appearance go hand in hand, one usually tend to forget to give credit to the healthy properties of foods and the spices used in it.
The spices mentioned in this article has antiviral and antibacterial properties which help fight many diseases and are also rich in Vitamin B and trace minerals. Here we are describing 5 health advantages of including essential spices in your diet so as to have healthy eating.

1. Turmeric Boosts Memory
–


–
Turmeric is one the most common spice which is used in almost all the 'Indian curries'. It holds the reputation of a natural antiseptic and anti-inflammatory for over ages in Ayurveda. However, the memory boosting property of Turmeric have come to light only recently. A study conducted by Monash University suggests that adding a gram of turmeric to daily breakfast can improve the memory of people who are in the early stages of cognitive impairment or diabetes. The anti-inflammatory property of turmeric helps in improving heart health and digestion. It also helps in preventing skin conditions like ringworm and respiratory problems.
2. Black Cumin Seeds Enhance Immunity
–


–
Did you know that Black cumin seed could enhance immunity? I never guessed it! If you are a person who needs to go to the Doctor now and then, then you need to reach out for immune boosting foods rather than a Doctor. Top your wholesome salad with some Black Cumin seeds. Theses seeds will help improve your immunity function along with protection from auto-immune diseases.
If you consume the black cumin seeds, the functional activity of the cells increases along with the increase in T-cells which is otherwise known as white blood cells. Black cumin seeds also harmonise the irregularity of immune cells that can cause them to kill healthy cells, thereby producing in an auto-immune disease. The spice has shown to have abilities to fight HIV!
3. Black Pepper Fights Cancer
–


–
One of the ominous modern day diseases is Cancer, and Black Pepper has shown properties in protecting you from cancer. Black pepper, apart from making your meal flavoursome, has some antioxidant properties. The University of Michigan Comprehensive Cancer Center study reported that the antioxidant property of piperine, which is an active substance included in black pepper, helps in preventing the growth of breast cancer tumours. The other antioxidants found in pepper are Vitamin C and Vitamin A which helps in fighting the generation of free radicals, which is the primary cause of premature ageing and cancer. The piperine present in black pepper also aids to enhance cognitive function and helps resist depression.
4. Ginger Improves Gut Health
–


–
Nowadays, we follow a very unhealthy diet. This, in turn, paves way to various diseases including digestive troubles. Poor lifestyle and eating habits result in constipation, IBS, acidity and heartburns.
According to the University of Texas Medical Branch at Galveston, ginger helps the metabolism by helping the food particles to break down and strengthen the intestinal muscles. Apart from that, the root aids to the passage of food through the gastrointestinal tract thus helping it move out of the intestine, which in turn provide relief from indigestion, nausea, gas and belly aches.
Ginger is also one of the natural painkillers, which helps to relieve menstrual cramps, arthritis pain, chest pain and back pain.
5. Clove Improves Bone Health
–


–
As and when you start ageing, your bone health tends to worsen. Especially if you are a woman, you suffer an increased sensitivity to diseases like osteoporosis, which is a bone-related disease, after 30. Having milk every day is not a solution for having healthy bones. You may also need other nutrients which include Vitamin K, omega-3 fatty acids, manganese and Vitamin C to keep your bones healthy. As the saying goes 'Big things come in small packages', so is clove. Clove holds all of these essential nutrients needed for our body.
For the development of the connective tissue in the bone and cartilage, we require the mineral Manganese. Vitamin K assists in the production of osteoclasts. These cells are responsible for building new bones. Omega-3 fatty acids improve the intake of calcium and prevent bone loss. Collagen boosting vitamin C helps repair fractures.
Th above mentioned spices can create wonders to your health and palette. If you include it in your meals, you are consuming a 'natural healer'!
Comments