Back to Home
Get Rid of Dandruff Permanently-10 Easy Remedies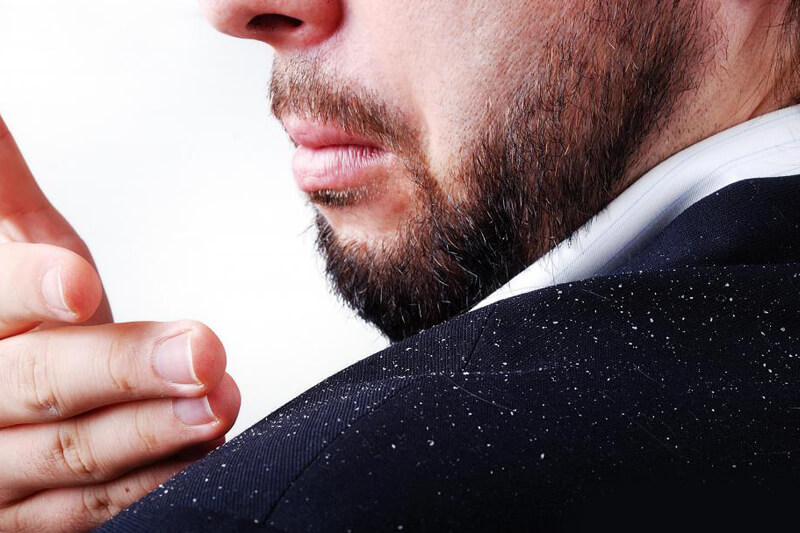 Dandruff, which is also known as Seborrhea, is one of the most common scalp diseases that a larger part of the population suffer from. It is a spontaneously emerging obstacle for the whole age troop. Albeit, it is most prevalent among the adolescent, it can affect people of any age group. Everyone, at some point in our lives, would have desperately attempted almost all types of dandruff treatment and also anti-dandruff shampoos. However, it keeps coming back.
Our scalp sheds out its dead cells in the form of white flakes just all other body parts. Consequently, when it sheds too much of dead cells, it appears clearly from your head. This is what we call as dandruff and even the slightest itch can cause the dead skin to fall onto your shoulders and for everyone to see. Dandruff is not a serious problem. But, in some situations could be embarrassing and irritating. It can also lead to skin irritations such as acne or pimples.
Many shampoos claim to be anti-dandruff however, do not live up to the name. Therefore, if you want a clear, dandruff free scalp, you can try these easily available ingredients, and you will be amazed at how efficient they are.
Indian Lilac Brew
Neem or Indian Lilac is one of the best remedies for many diseases. From a toothache to indigestion, neem can resolve the problem easily. Therefore, we don't have to get astonished that neem can treat dandruff too.
All you have to do is to pluck a handful of neem leaves, put them in a vessel with about four to five cups of water and bring them to a boil. Let the leaves boil for around 15 minutes and then take it out of the flame and let it cool. You can strain the leaves out and use the water to rinse your hair completely. If you want to see amazing results, then you will have to do this procedure three to four times a week.
Coconut Oil Mix
The coconut, which is often called as the king of the fruits, is used for various reasons: oil being one of the main reasons. Coconut oil can be utilised for moisturising, cleaning, cooking and much more other purposes. Since coconut is rich in antifungal properties, it is applied to hair in order to retain moisture, which is extremely useful. If you mix coconut oil with half the amount of lemon juice in it, it helps to fight dandruff. You can apply this mixture to your scalp and wait for twenty minutes before you rinse it off. You can also use shampoo if required.
If you repeat the process two to three times a week, then dandruff will be just a memory for you.
Apple Cider Vinegar
Apple Cider Vinegar is an ingredient which you will be able to find in most of the modern kitchens. It is made available in almost all of the supermarkets. Apple Cider Vinegar is known for its pH restoring properties, and this is exactly what it does to the scalp. It stops any form of yeast growing on the head. It serves to remove any blocked pores and loosens the dirt which enables the skin to breathe which in turn reduces the rate of the skin cells dying.
Use two tablespoons of Apple Cider Vinegar and mix it with the same amount of water and fifteen drops of tea tree oil. You then need to apply this mix to your scalp and let it work for at least ten minutes and then wash thoroughly. If you continue to use this mix at least two to three times a week, you will see best results.
Baking Soda
Cakes, biscuits and bread, are what comes to our mind when we think about baking soda. However, it has got more therapeutic properties than you think it has. It is an exceptional exfoliator and also absorbs all the rejected oils found on the scalp. It helps in cleaning out the dead skin and alters the pH levels which prevent any harmful fungal growth.
What you need to do is put a handful of baking soda through lightly wet hair and then massage the scalp a bit. After about five minutes, rinse it out with warm water. But make sure that you don't use shampoo. If you repeat this once or twice a week, you will see immediate results.
White Vinegar
Vinegar has a certain quantity of acetic acid, which is what makes it sour. White vinegar has the same properties, and when it is used for the scalp, it stops any fungi from spreading on the head. Take half cup of vinegar and mix it with two cups of water and then rinse your hair with it after shampooing. After five minutes, rinse out the vinegar mix with clean water. There is yet another way to use the white vinegar for dandruff treatment. You can mix two parts of vinegar with three parts of water and one part olive oil. Apply this mixture to your scalp and leave for ten minutes. Use a mild shampoo to wash it out. If you repeat this twice a week, your scalp will be free of dandruff.
Olive Oil
Olive oil is basically used to change something from dry to moist. When the scalp dries out, olive oil could be the best remedy to give it some moisture. All you need to do is heat some extra virgin olive oil and apply to the scalp and then slowly massage the head. After this, you need to wrap a warm, and soft towel around the head and leave it for atleast 45 minutes. For best results, leave it overnight. You can shampoo and condition your hair after that. If you follow this method at least three times a week, you can see that the oil works magic on your hair and scalp.
Tea Tree Oil
Tea tree oil is another essential oil which has exceptional healing qualities. Tea tree oil is really something that has slowly crept its way into every home, and there is no complaint reported as of today. It has anti-fungal properties too which makes it an ideal applicant to a dandruff prone scalp. You have to add a few drops of tea tree oil to some shampoo and then apply this mixture. Another beneficial way to use this oil is to reduce it with a few drops of coconut or olive oil. Use the oil mix and leave it on for at least 30 minutes or overnight. Then wash your hair thoroughly. For a healthy scalp, use this once or twice a week.
Lemon Juice
In the earlier texts, we came to know that acids are good for the scalp and help to fight fungal growth. It fights clean out the dead skin and fights itchy scalp. To prevent dandruff add the juice of half a lemon to one-fourth cup of yoghurt. Mix it well and then use it to the scalp and hair and leave it on for about twenty minutes. Rinse and then shampoo it off. Another way in which you can utilise the lemon juice is to add a few teaspoons of lemon juice to water and clean the head with the mix. Leave it on for atleast five minutes and then rinse and shampoo. You can use this mixture maximum of four times a week to get best results.
Aspirin
Aspirin and dandruff, weird isn't it? Aspirin, being a typical headache medication, can also help in getting rid of dandruff. The salicylic acid characteristic found in the aspirin helps it to fight dandruff. It helps in exfoliating the scalp and washing out the dead skin. Take two aspirin tablets and crush them into a powder. Add this powder into a blob of shampoo and mix it well. Now apply this to your scalp and leave it on for a few minutes. You need to wash this mixture well with shampoo until all the powder is removed from your head. Another method of using Aspirin is by mixing three aspirins with one tablespoon of vinegar. This mixture can be massaged directly into your scalp and then leave it on for half an hour. Wash thoroughly to eliminate any aspirin powder.
Fenugreek Seeds
Fenugreek seeds are excellent for digestion, and they do have anti-fungal properties that work wonders on the scalp. You have to soak a few spoons of these seeds in some water and leave it overnight. The following morning, grind the seeds into a paste. This mixture should then be mixed with a cup of yoghurt. You need to apply this mix on the scalp and hair and then allow it to rest for a couple of hours. Shampoo and wash correctly. If you want incredible results, repeat this method twice a week.
Comments