Back to Home
Lazy Girl Amazing Makeup Hacks That Nobody Told You About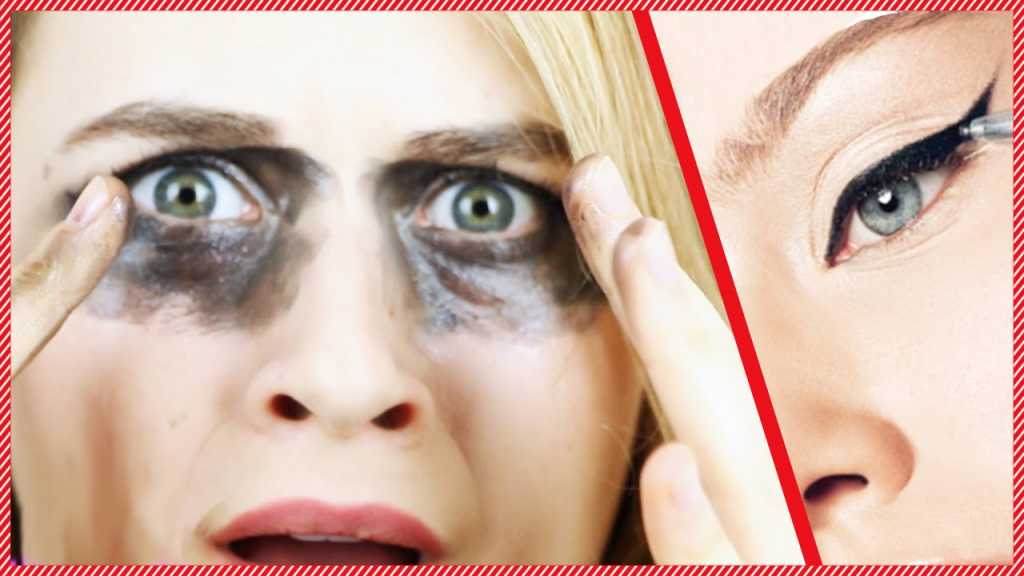 Let me dedicate this article to all those lazy girls out there who find it "boring" to spend time in front of the mirror, piling on the powder, dabbing the lipstick and lining your eyes. You have a reason to smile today. This article gives you details on simple makeup hacks that will totally change your life (in a good way).
1. Turn your eye pencil into a gel eyeliner


You must have always wanted to give your eyes that smokey finish, however, did not have that 'gel-based' eye liner. We have the solution for you here. You can turn your pencil eyeliner to gel-based formula. What you have to do is to hold your color pencil under the flame for a few seconds and then let it cool down for at least fifteen minutes. You will notice that the texture of the pencil would have turned smooth. Create that edgy look by sliding the liner over your eye line.
If you love winged liner, however, do not have that hand-eye coordination to do it flawlessly, you need not worry. The messy edges could be cleaned with a cotton swab which is coated with petroleum jelly.

2. Your own Lip Color


Try mixing loose color powders or eye shadows to the petroleum jelly. The result? TaDa!! You get a brand new lip balm. That too, your favorite color! Also, you can mix a little peppermint oil into your lip gloss to give your lips a plumping boost.
If you want to make your lipstick last all day, you can hold a tissue over your lips and dust them with translucent powder.

3. To create a fuller lip look


Apply your lips with concealer and smudge well before you apply lip color. After this, you can dab on your favorite tinge of color to create that fuller lip look.

4. For full Lashes


If you want a thick lash look, you can dab some baby powder before applying mascara.
5. Make your own nail polish


If you would like a customized version of nail polish, you can crush your eye shadow nad mix it with clear nail polish. In this way, you can create your own nail colour with any colour you want. Or, if you want a matte finish for your nail polish, you can add a little bit of cornstarch to a glossy polish.

6. Use Perfume right


If you want a long lasting fragrance, you need to make sure that you apply your perfume on your pulse point instead of spraying it all over your body. Due to the warmth of your blood, pulse points make the best points to apply perfume. Some such points are located behind your ear, inside your elbow, behind your knee, at the bottom of your throat and on your wrist.
7. Look good in photographs


If you apply mineral powder on the T-zone of your face, it helps to get rid of your excess oil, and you will look stunning in pictures.
8. Curl your lashes


If you want the curl in your lashes to stay longer, then you need to heat your curlers with a hairdryer before curling your lashes.
If you want to make your clumpy, flaky, mascara last longer, you just have to mix a little contact solution in it.
9. For an instant hair volume


If you want an instant volume for your hair, you can place a butterfly clip in the middle of your hair and then finish your ponytail. You could also brush a little eye shadow on your part so as to make your hair look instantly thicker. If you don not want to hassle with fixing and re fixing your hair all day long, all you have to do is spray your bobby pins with hairspray before you put them in.
10. Eyes that speak


If your eyes are looking tired and worn out, you can apply a white color eyeliner on your water line before developing the final look. You can also make your eyes look more awake instantly by lining the waterline (also known as the waterline) of your lower eyelid with a nude eye pencil.
Other than this, there are other hacks like creating an ombre glitter fade at the bottom of your nail in order to cover a growing-out manicure or perhaps paint on a glittery french tip so as to hide the chipped ridges.
Apply peppermint moisturizer or Vaseline to your tired and cracked feet, and then put on some comfortable, cushioned socks and head to bed. You will wake up and see beautiful and smooth feet.
Are you not patient enough to wait for the moisturizer, self-tanner or your toner to set? Then blast your skin with a blow-dryer on the cool setting. Several products such as toner or tanner need to dry thoroughly before moving on to your next step. So, in order to save time, a blow-dryer can really help speed up that process.
Comments