Back to Home
Obama declares wildfire emergency in Washington state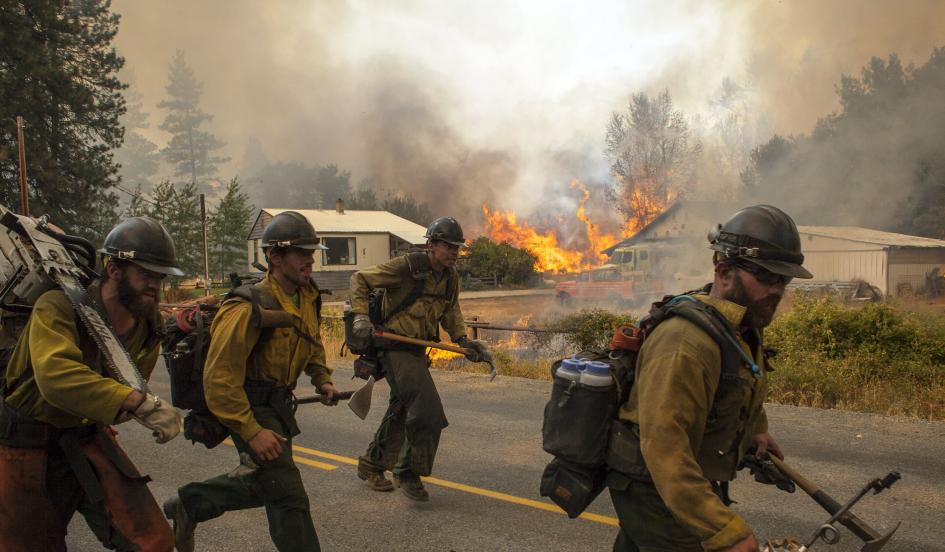 Los Angels: US President Barack Obama has declared an emergency in Washington State following the wildfire which has been ravaging the region vary badly.
Australia and New Zealand has sent firefighters to help US crews struggling to contain the deadly blazes appeared across America's drought-stricken West.
Obama's declaration was followed by the release of federal funds to help the northwestern state to carry out relief efforts, where several fires are spreading as out of control.
In the ongoing fire extinguishing operations three firefighters are reported to have been killed so far.
Large wildfires are currently blazing across 10 US states, with active fires burning some 1.3 million acres (526,000 hectares).
The National Inter-agency Fire Center (NIFC) said that many residents in Washington, as well as other western states, remained evacuated as firefighters were working to contain large fires across the West.
The state of Idaho is one of the hardest fire-hit areas, with 17 large burning fires, while Washington, Oregon and California are trailing behind it.
Meanwhile, the NIFC sources said that a contingent of personnel from Australia and New Zealand was expected to arrive in Boise, Idaho shortly.
They have also said that some 71 firefighters and other personnel had been requested, although the final details were still being worked out, the NIFC said.
Currently, there are nearly 30,000 US firefighters and support staff, battling to neutralize the blazes.
Video on news regarding wildfire emergency in Washington

Comments