Back to Home
Gandhamadana Parvatham in Rameswaram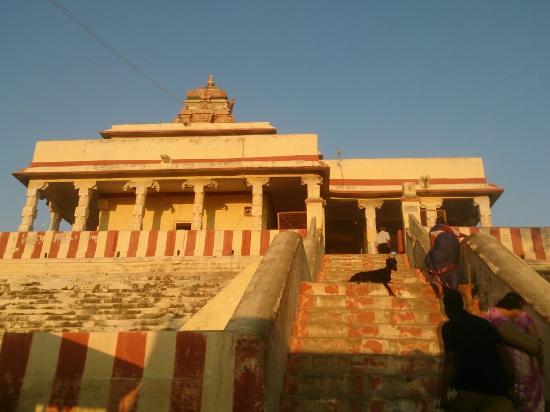 Gandhamadana Parvatam is a spectacular hillock situated at a distance of 3 kilometers from the popular Rameshwaram Temple.
This is the highest spot in the island from where the areal view of the entire island can be collected easily.
On the hill, there is a two storied shrine where impressions of Lord Rama's feet are preserved.
Every year thousands of pilgrims gather in the island to worship the elevated Gandhamadana Parvatam where the holy Rama Teertham is located.
As the Ramatheertham is on this hillock, it is also known as Gandamadana.
This highest spot in the Rameswaram Island is considered to be the most sacred pilgrim spot in southern India.
It lies a few distance away from Dhanushkodi from where Rama is said to have constructed the stone bridge to Sri Lanka.
The hillock provides an amazing view of the entire Rameswaram Island which is being surrounded by the splendid sapphire of blue ocean.
From Gandhamadana Parvatham, the view of eye-catching landscape sights along the seashore are really mesmerizing.
The spectacular hillock is located towards the north-west of Rameshwaram and well known for its beautiful sunrise and sunset.
It is located at an exotic spot from where the breathtaking views of the whole island in the background of both sunrise and sunset can be assimilated.
As per legends, this was the location where Lord Ram had met Vibhishana, the brother of the demon king Ravana and hence the place has got great historical importance.
Vibheeshana is said to have surrendered to Rama and helped him in the battle against his brother.
The temple Rama Theertham is also enshrined an image of Vibhishana.
Gandhamadana Parvatham is a holy place, for the pilgrims who come to worship Lord Rama's footprints, which can be seen within the premises of the shrine.
On the way to Gandhamadana Parvatam, tourists can visit Sugreevar Temple and other Theerthams also.
Video on Gandhamadana Parvatham in Rameswaram

Comments