Back to Home
Google hi-tech spoon to help people suffering from tremors and Parkinson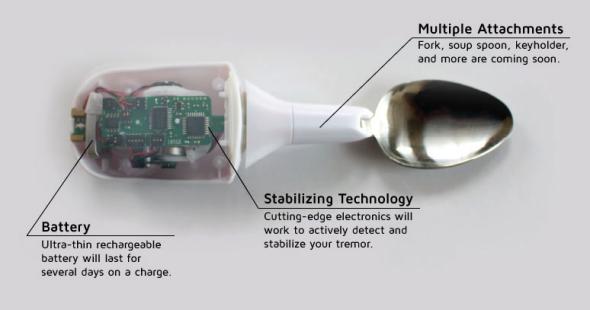 Google has decided to utilize its money, brain power and technology in health field with an intention to help people suffering from tremors and Parkinson's Disease.
For such patients, eating a bowl of soup or cereal is found to be a daunting task.
Tremor suffering people are always disturbed by severely shaking hands which are surprisingly uncontrollable to them.
This condition is absolutely very awkward to view such people especially in public, or at a restaurant.
But the invention of a hi-tech spoon that counteracts the shaking are found helpful to such suffering people.
The lift ware spoon, developed by California start-up Lift Labs is capable to detect a
person's tremor and keep the spoon steady by making instant required adjustments.
The company, which was recently acquired by Google, has conducted clinical trials, and confirmed that the device can reduce shivering of hands by an average of 76 per cent.
Developers are now working on other stabilizing devices with the hope that one day they will be able to help the 10 million people worldwide who suffer from essential tremor or Parkinson.
Video on Google's hi-tech spoon

Comments