Back to Home
Groundhog bites Wisconsin mayor's ear during ceremony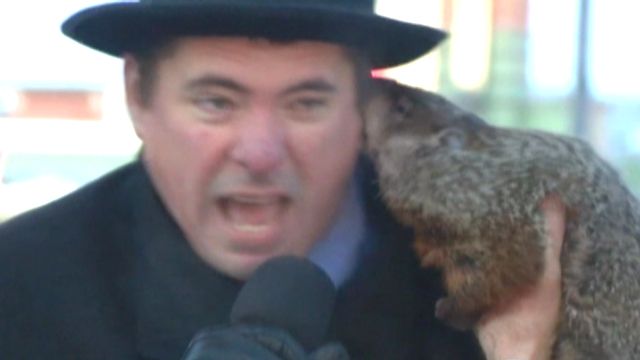 Sun Prairies: A groundhog is reported to have bitten on the ear of the mayor of Sun Prairies in Wisconsin.
This incident indicates how long it would be until spring season.
Jimmy, the official groundhog in Sun Prairie was biting the ear of the mayor during the Groundhog Day celebration.
The handler of the groundhog was keeping the animal next to Mayor Jonathan Freund's face when it quickly bit his ear down.
Freund winced a moment, but went on with his declaration and pointed out that Jimmy had predicted an early spring.
The mayor in Wisconsin thus learned a valuable lesson about his city's weather-forecasting.
According to the US tradition, the emerging of the groundhog from its underground shelter will determine how long the extreme winter weather remains in the country.
The Groundhog Day celebration had become even more interesting when Jimmy's handlers, Jerry and Maria Hahn, said that the mayor was wrong and there would be six more weeks of winter in the country.
City officials later issued a statement saying only the mayor can translate Jimmy's prediction.
As per the reports, parts of the US have been experiencing severe snowstorm in recent weeks.
Mr Freund is not the only Meyor to be bitten by a groundhog.
Former mayor of New York, Michael Bloomberg, was also bitten by one such animal in 2011.
Video on the Mayor's ear biting by the groundhog

Comments