Back to Home
Crown Prince of Thailand Vajiralongkorn leads bike ride 'for Mom'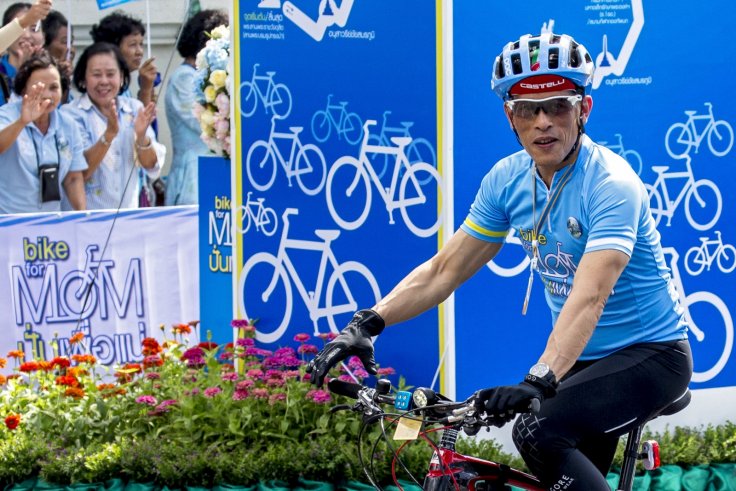 Bangkok: Thailand Crown Prince Maha Vajiralongkorn is reported to have led a bicycle ride through Bangkok in honor of his mother, Queen Sirikit.
Thousands of Thai cyclists were joined him to make the spectacular mass ride a grand success.
Wearing the queen's color shirt of sky-blue and emblazoned with "Bike for Mom", the cyclists were beautifully paraded through the streets of Bangkok by riding close to traffic.
Many young Thais outside the capital would have done the same after getting inspiration from the ride.
The queen who has turned 83 four days ago is said to have been passing through a very weak healthy condition.
According to commentators the 43 km (27-mile) cycle ride is the first event to be publicly led by the prince, who is 63 years old now.
About 300,000 people are said to have registered to ride with the prince.
The crown prince was followed by other well-known figures including Prime Minister Prayuth Chan-ocha and his cabinet members.
It is said that the prevailing unbearable heat and unforgiving traffic in Bangkok were not favorable to conduct a cycling event like this.
But against the odds, cycling has been taken off as a hobby in recent years, and by riding cycle, the successor to the throne tapped into that craze.
Regarding the mass bicycle ride prime minister said that he is expected to unite a country which still stands divided over last year's military coup.
Video on the mass cycle ride led by the crown prince of Thailand

Comments