Back to Home
Islamic State themed wedding held by imitating knife-wielding Jihadi John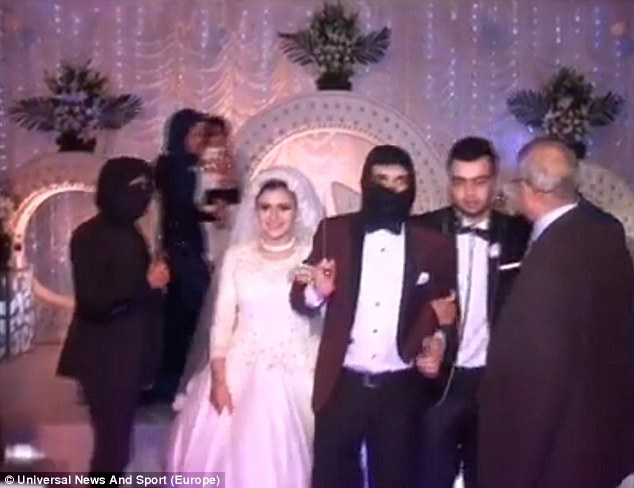 Cairo: In Egypt, a wedding party is reported to have been celebrated in IS themed environments imitating their beheading expert Jihadi John.
In this conspicuous marriage party, men wearing masked cap with swords were imitating IS militants.
They lead the newlyweds into a cage and meanwhile there was a remixed version of IS propaganda music in the background.
The cage was similar to the one that used by the terror group to burn alive Jordanian pilot Moaz al-Kasasbeh.
After entering in to the white cage, the smiling newly married couple started dancing with their fellowmen who were pretending to be IS Jihadists.
The groom also had held a sword while dancing and at one instance he was holding up a gun.
He showed the same to the crowd gathered around him and also to his spouse.
It was not clear whether those weapons were real or fake. However, the video of the occasion was published on social networking site, Facebook
The venue of this spectacular marriage ceremony was at Menoufia, near the Egyptian capital of Cairo.
It has been reported that some of the guests were actually believed the wedding had been stormed by IS militants and could not realize it as a fake effort.
They are said to have been horrified when they viewed the Islamic State (IS) themed party where the groom was imitating killer Jihadi John.
The Youm7 newspaper claimed that the idea was designed by the groom and his companions.
They had also told the matter to the photographer Ahmed Kassem.
The groom had allegedly told his bride-to-be, beforehand that he had been planning something "different" for the wedding and had not gone into details.
The men pretending to be IS Jihadists were worn balaclavas similar to the one worn by murderer Jihadi John to hide his identity.
The British Jihadist had been appeared in the beheading scenes of Western hostages, including Britons Alan Henning and David Haines.
Last week Jihadi John was named as Mohammed Emwazi, a 26 year old computer science graduate from London.
The highly impressive video clip of the IS themed wedding in Egypt is come after the beheading footage of 21 Egyptain Coptic Christians in Libya in February.
Egypt had responded to this evil act by bombing at various IS targets in Libya.
Video on the IS themed wedding in Egypt

Comments