Back to Home
Volcano eruption forms new Island in South Pacific Ocean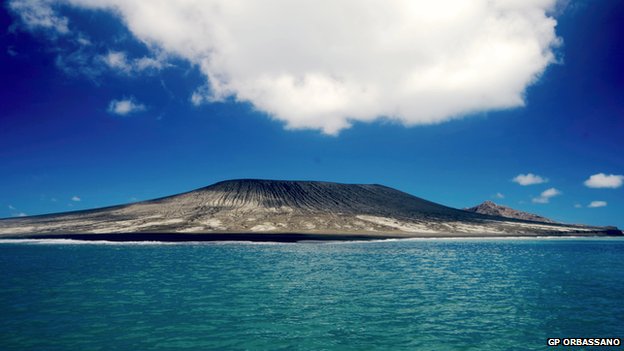 Nuku'alofa: A new island is reported to have been formed in the South Pacific Ocean after the blast of an underwater volcano in Tonga.
Surface images of the island that locates 45km (28 miles) north-west of Tonga's capital, Nuku'alofa is being released.
The island which is 500m (1,640 feet) long was formed after an eruption of the Hunga Tonga volcano.
According to a scientist, the island would be be highly unstable, and dangerous to visitors.
The full name of the volcano is Hunga Tonga-Hunga Ha'apai and its current eruption is the second, within a time-frame of five years.
Video captured from a boat that located hundreds meters away from the volcano had shown fast-rising and widely spreading gas overcharge emerging from the sea.
Recent Satellite images taken after the eruption has shown new rock formations, and more sedimentation in the sea.
A resident of Tonga's main island was captured striking images of the new island from its surface.
Gianpiero Orbassano, who owned a hotel in Tonga, was traveled to the island with two friends and said that he was likely to make another trip soon.
According to him the sedimentation he observed in the ocean was really quite solid and quite high.
He has also revealed that the surface of the Island was too hot and climbing the same in the bright sun was really a task.
The 63 years old Orbassano had previously traveled to another new volcanic island in the Pacific, where his friends were planned to play golf on the new landscape.
Mary Lyn Fonua, editor of the Matangi Tonga news website, had also traveled by boat to view the eruption site.
She had been within 700m of the volcano and exclaimed her visit as risky since an underwater volcano could behave quite differently.
But she said that it was fascinating to view the newly formed Island.
Video on Volcanic eruption that formed new Island in South Pacific Ocean

Comments