Back to Home
42 arrested in connection with the lynching of a suspected rapist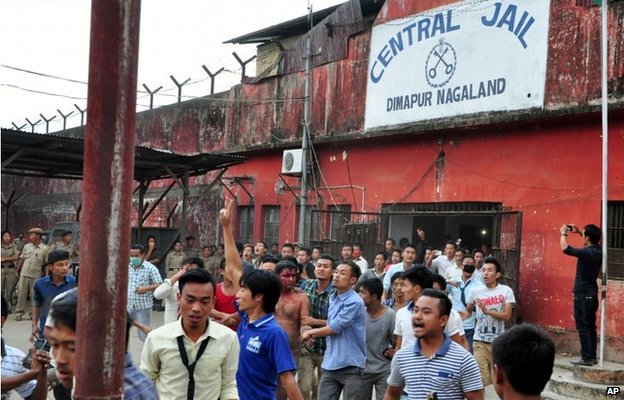 Dimapur: Police in north-eastern India said that they have already arrested 42 people in connection with the execution of a suspected rapist who was taken from prison by a mob.
The man called Syed Sharif Khan, was forcefully made naked, beaten and dragged through Dimapur, the main city of Nagaland state, before being hanged by the angry mob.
Hundreds of policemen are said to have been patrolling in the streets of Dimapur as there were increasing tension after the incident.
A curfew was also imposed in the city to maintain law and order and bring the deteriorating situation under control.
In earlier reports, police had revealed the name of the dead man as Farid Khan, but his family told that his name was Syed Sharif Khan.
According to the Police, Mr Khan was a Bengali-speaking Muslim trader from the neighboring state of Assam.
He was arrested in February on charges of raping a 19-year-old tribal woman three times.
Mr Khan's brother said that he was picked on because of ethnic reasons. According to reports, the woman was related to Mr Khan by marriage.
After Mr Khan was taken from prison, he was dragged through the streets by thousands of people.
Several people were wounded badly when the police opened fire to disperse the mob.
Police said that the arrested men had been accused of rioting, arson and unlawful assembly.
One news agency reported that some of these 42 arrested were also directly involved in the execution, and will face additional charges,
There are controversial arguments on how a large mob could enter into the prison and how they were able to release and kill one selected inmate.
Video on the lynching of rapist in Nagaland

Comments