Back to Home
Sri Lanka's Tamil natives commemorate civil war anniversary as 'Remembrance Day'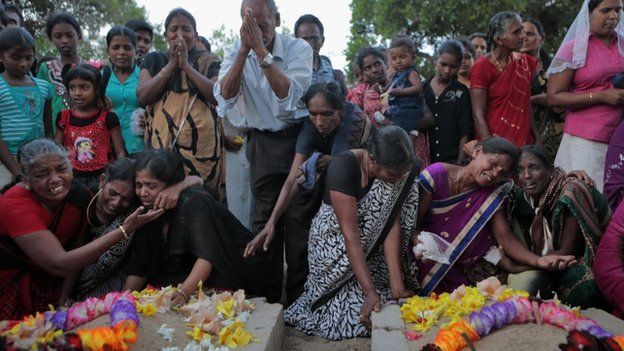 Colombo: President of Sri Lanka Maithripala Sirisena has promised to seek reconciliation on the sixth anniversary of the army's victory over Tamil Tiger separatists.
The president wanted the truth regarding the conflict to be established and justice delivered.
During the sixth anniversary of the civil war victory, Tamil politicians were allowed to pay tribute to dead civilians for the first time. Their commemoration was at the former war zone in the north and east provinces of Sri Lanka.
Police surveillance was so tight in those regions and banned all other demonstrations.
During the recently held commemorations, Mr Sirisena said that they were all happy when the war came to an end and expressed his dismay over the poor post war developments.
He has also admitted that they were not able to win the hearts and minds of the whole people in the country. According to him, the true reconciliation could only be achieved by winning the hearts and minds of the people.
In a statement issued recently, the Human Rights Watchers have expressed doubts about the new administration's commitment to address the allegations of human rights abuses and war crimes during the last stages of the Sri Lankan civil war.
However, the remarks made by Mr Sirisena are the another positive sign of the changing emphasis in the country. Mr. Sirisena's election victory over the more Nationalistic former president, Mahinda Rajapaksa was really an unexpected one. Mahinda Rajapaksa was the president of Sri Lanka at the time of the accused human rights violation taken place during the civil war.
For the past five years, the war ended day was celebrated as "Victory Day" by the Rajapaksa government. Now the new administration has said that it could be observed as "Remembrance Day" to mark respect for the sacrifices made by all those died during the war, irrespective of their ethnicity.
Moreover, Mr Sirisena has acknowledged his willingness to discover about how many Tamil civilians were died or disappeared with respect to doubtful circumstances and to find out whether Tamil Tiger leaders were massacred after surrendering to the army.
Video on Sri Lanka's celebration of civil war victory day as Remembrance Day

Comments