Back to Home
Ariyaman beach in Rameswaram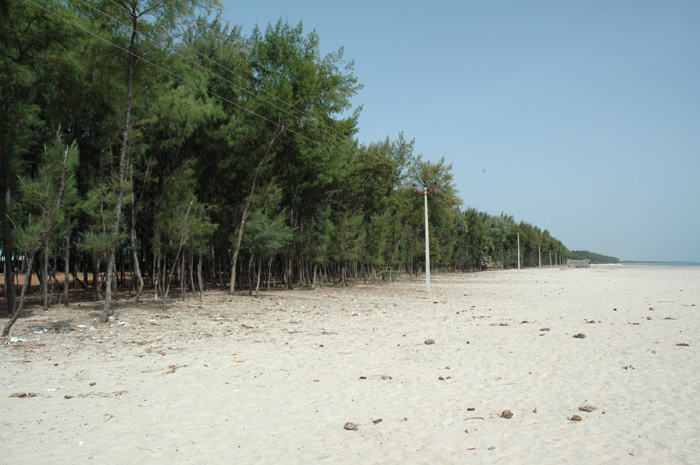 The Ariyaman beach in Pamban Island is about 27 kilometers away from the Ramanathapuram city. The scenic beach which locates on one side of Palk Bay measures nearly 150 meters width and extends to a distance of two kilometers and offers a thrill and excitements to all tourists irrespective of their ages. It is a much visited tourist spot in the Island because the crystal clear blue sea waters here are calm while the waves are too gentle.
The beach is amazingly clean and surrounded by Casuarinas trees which offer comfortable shade to visitors. It is blessed with all important merry making environments required for a wonderful picnic spot. Acknowledging the tourist interest, the place has been arranged with a children's park, aquarium, museum, a watchtower, an artificial thundershower and a swimming pool. Other entertainments available at this picnic spot are Boating, a water scooter, wind surfing etc. The thrilling adventurous entertainment called Para-sailing enable visitors to move about 200 meter above water using a parachute controlled by a moving boat. Participants of this entertainment are given a helmet and a life jacket. Apart from this one member of the parachute club will accompany tourists on demand. A water theme park which offers multipurpose entertainments is expected to open in the near future. Several tourist cottages and dormitories are constructed here to accommodate visitors. The sea coast is also home to different varieties of sea life, including coral reefs, and dolphins which are observed very rarely.
Encircled by large Casuarinas trees and silvery blue waters, the Ariayaman Beach is a fantastic family picnic spot in Rameswaram. This is known to be the best beach in Rameswaram where family men can enjoy their restful time with their beloved ones. A lot of people visit this marvelous location especially on New Year Day, Christmas Day and Bakrid festival.
Video on Ariyaman Beach Rameswaram

Comments