Back to Home
Bullfighter gored to death during a summer festival in Spain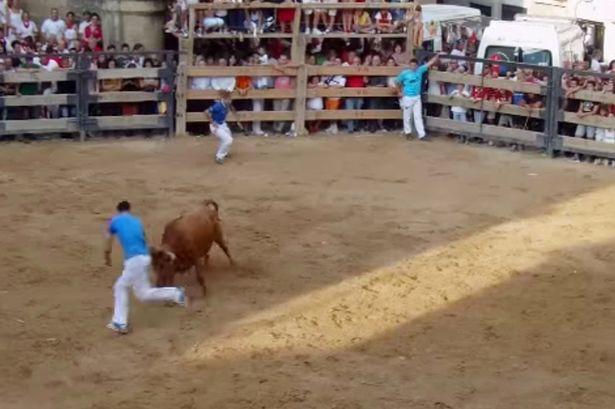 Navarra (Spain): A bullfighting show was traumatized when one participant was killed by the animal.
The bull claimed the life of a fourth Spaniard who have died during an annual summer festival in just three days.
The participant called Miguel Ruiz Perez was struck in the abdomen while he was taking part in an exhibition match involving athletes and bulls.
But comedian and animal rights activist Ricky Gervais who slammed the sport was claimed that the bull had every right to defend itself.
The 29-year-old was attacked by the baby bull after the participant happened to loose his balance and fall over as he tried to dodge the animal as part of the show.
He was horned by the animal in the stomach while trapped against wooden fencing around the bull-ring as he tried to reach safety.
It was on the third day of the festival that Miguel was badly attacked by the bull.
The incident was occurred in Lerin in Navarra, northern Spain.
He was declared dead after being taken by air ambulance to a hospital in nearby Pamplona.
However, local authorities are not yet decided whether to suspend the week-long town bull fighting festival.
Immediately after the incident, colleagues were seen lifting him up in their arms and running with him to an unmanned ambulance parked at the entrance of the bull-ring.
They were also seen desperately calling out for paramedicals to arrive.
With the tragedy, the number of gored victims during Spanish summer festivals over the weekend has risen to four.
Video on the Bull-fighting event in Spain where one participant was gored by the animal

Comments