Back to Home
Controversial suit of Modi to be auctioned for charity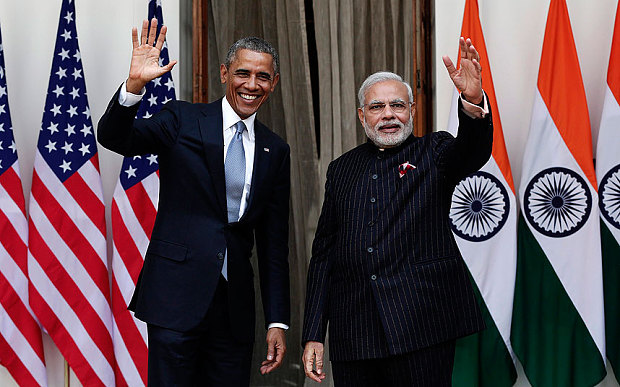 Officials said that Indian Prime Minister Narendra Modi's controversial pinstripe suit embroidered with his name would be auctioned in his home state of Gujarat.
Hundreds of valuable presents he received after becoming the Prime Minister of India would also be auctioned with the suit.
The money collected by auctioning these materials would be used to clean up the heavily polluted Ganges River.
Modi had worn the controversial dark pinstriped suit during the visit of U.S. President Barack Obama to India last month.
Modi's name was monogrammed on the suit in dull gold stripes.
Photographs showing the name display on the suit was gone viral on social media.
The estimated cost of the suit was more than one million rupees($16,000).
On the basis of this, opposition leaders were blamed Modi for his expensiveness in wearing such a suit.
One of the Gujarat state officials Milind Toravane said that the suit and other items received by Modi since he became the Prime Minister of India were considered to be auctioned over the next three days.
The gifts comprise of decorative pieces in silver and brass, and other fascinating goods.
It was only nine months before, that he took over the Prime Minister's office after securing majority in the national elections.
Before that Modi was the chief minister of Gujarat for the last 12 years.
During that period, the gifts received by him were regularly auctioned off.
The money collected from this auction were used to fund programs for the education of poor girls in the state.
However, no basic price has been decided so far for the auction of the suit.
Video on Modi's controversial pinstriped suit

Comments