Back to Home
Design of World's first luxury yacht for women unveils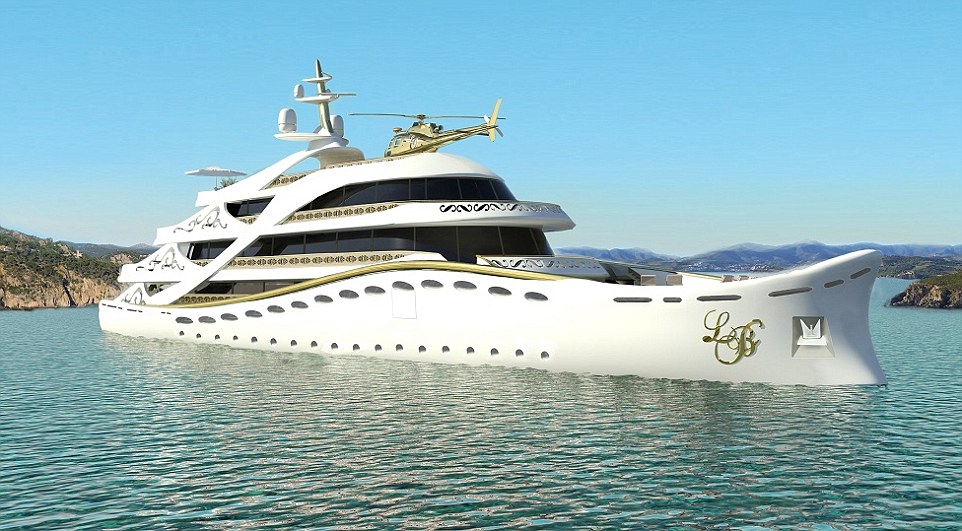 Lidia Bersani Luxury Design unveils plan of a super-yacht called La Belle which is meant for millionaire women.
This vessel which measures 262ft is the 'first expensive mega yacht designed by a lady.
The vessel is capable to provide luxury sleeping facility up to 12 rich women.
The yacht is ornamented with crystal, gold, fur, onyx, gemstones and flowers which are spread over its five decks.
Designer Lida Bersani told that she does not yet have any idea regarding the price for the yacht as it is just an initial concept.
The marvelous design of the yacht is to fill up the existing gap of luxury vessels meant for the fairer sex.
While designing for the luxury Yacht, the mind of Lidia Bersani was dreaming for the first luxury mega yacht for females.
The sleek white and gold yacht, is an impressive five deck royal cottage.
The 80-meter super yacht is not for the faint hearted, or Laura Ashley lovers.
It's a riot of opulent gold mosaics, mother of pearl, Swarovski crystal chandeliers, gemstones, onyx and bespoke wooden furniture.
The design of the heavenly boat is featured around with soft edges, smooth lines, floral patterns and a large amount of glass, crystal and bright white.
The vessel is a sign of warm romance having typical Bersani Style.
The royal colors to be used in the vessel are white, ivory and gold.
According to the designer such color combination will bring an absolutely pleasing atmosphere in the vessel.
Interior of the yacht is fully decorated with grand and comfortable elements.
The vessel is carefully designed with six deluxe cabins which can offer luxury facilities to 12 women belong to the millionaire class.
There is also one helicopter landing pad at the top deck of the vessel.
Video on the women's luxury yacht unveiled recently

Comments