Back to Home
Historic Japanese tram that survived Hiroshima bombing renews for its services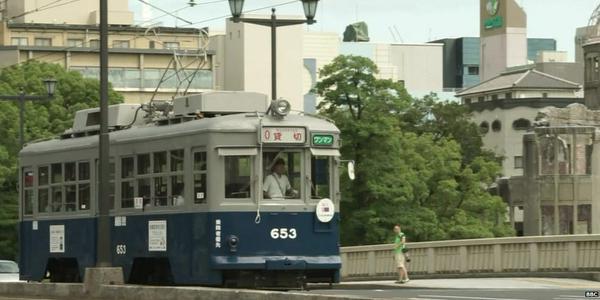 Hiroshima: One of the few Japanese streetcars that survived the second world war atomic bombing by the US at Hiroshima is being renewed. This is to commemorate the 70th anniversary of the horrible bomb drop.
The vehicle which repainted in its original colors of blue and gray is well furnished inside with video testimonies of survivors.
The restored car, having number 653 is one of the three that survived the attack and still working.
The car that damaged in the explosion of the bomb was then brought to work and had been in place until 2006.
In the renewed train there are images of the attack and the reconstruction of the city.
Many residents were gathered to see the working of the restored tramcar.
The route of the renewed tram is decided and the same will pass near the memorial for peace.
Approximately 140 000 people were died following the US atomic bomb which dropped on Hiroshima on August 6, 1945.
People who were lucky to survive could witness horrific scenes and experienced terrible injuries.
Thousands were forced to die from radiation sickness which was an aftereffect of the bombing.
Almost 70 years later, only handful of eyewitnesses of the horrible occasion are remaining.
They were just school children when the devastating bomb struck.
Following the attack, nearly 90 % of the trams were either destroyed or damaged.
After restoration, the trolley was arrived opposite to the icon of Peace Memorial in Hiroshima, the only building left standing near the place where the bomb was fallen.
The tram will be running in the route on weekends until the end of August.
Video on the iconic tram that survived Hiroshima bomb

Comments