Back to Home
Horseshoe shaped longest cantilever glass walkway openes in China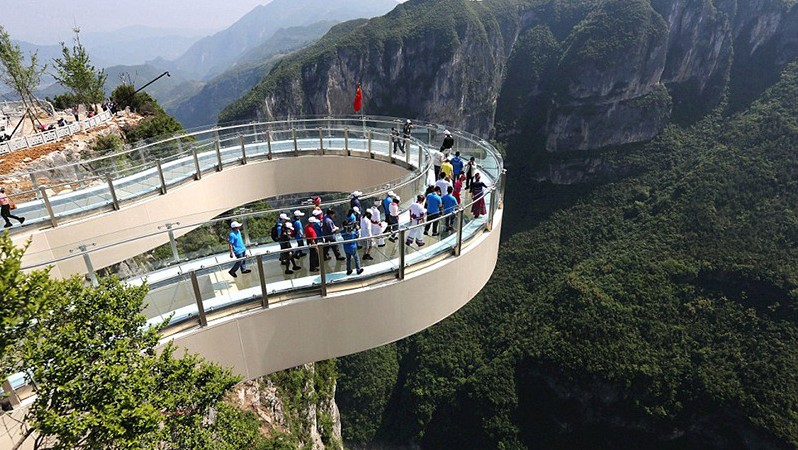 Longgang (China): The world's most thrilling as well as terrifying attraction is being officially opened in China this week. The horseshoe-shaped glass floor walkway in China may be one among the wonders of the world. The amazing glass walkway which extends to a length 87.5 ft from the edge of a cliff is located in Chongqing, the marvelous landscape and paradise of tourists. Currently, the newly opened wonder walkway is considered to be the longest cantilever bridge in the world. The previous longest was the Grand Canyon Sky-walk in Arizona. The bridge located in south-west China has been named Yuanduan, which means 'at the end of the clouds'.
The horseshoe-shaped walkway which extends 87.5 ft from a cliff edge have unique features and renders the feeling of walking on air. During the official opening of the cliff wonder, models were stood on the glass walkway which extends over the valley floor lying 2,350 ft below. From this longest cantilever bridge located in the Longgang National Geological Park, visitors can experience the enchanting beauty of the panoramic mountain racks spread over the area.
It is said that the bridge can accommodate up to 200 people at a time, with a duration of 30 minutes. Meanwhile, entry to the park is limited to just 30 people at a time to ensure visitors to have plenty of room for enjoyment the viewing. This arrangement is said to be to facilitate visitors who are afraid of heights and enable them to enjoy the terrifying picturesque environments of the deep lying valley. Admission to the bridge can be made possible by paying an entry fee of 60 yuan (approximately £6.30 or $9.60) for a duration of 30 minutes. Officials have claimed that the bridge having see-through glass floor was designed to withstand an 8.0-magnitude earthquake and level 14 typhoon.
Chinese media said that the £3.7million ($5.6million) worth bridge could open ahead of the scheduled date after its construction started in March 2014. This enthralling horseshoe shaped bridge would be an ideal spot for daredevil tourists to display their dangerous talents as the valley floor lying 2,350 ft below their feet.
Even though the horse shoe shaped glass walkway in China is the longest cantilever bridge, it may have fallen to No 2 in the world as the Grand Canyon Sky-walk is still one of the world's most thrilling experience located nearly 4000 ft above the floor of the Grand Canyon. The transparent horseshoe-shaped cantilever bridge was opened in 2007 on land belonging to the Hualapai Indian tribe.
Video on the longest cantilever walkway recently opened in China

Comments