Back to Home
India gets 14 new sniffer dogs to combat tiger poaching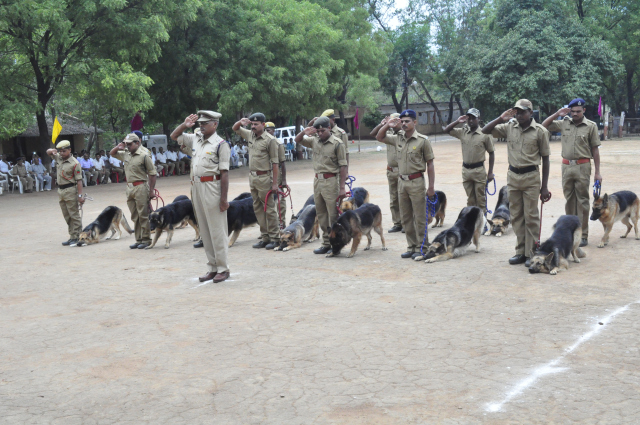 New Delhi: India now has a new class of soldiers in the form of wildlife sniffer dogs to tackle animal hunters.
Recently, these dogs were inducted into the forestry departments and police forces of various states. Prior to this, there was a "Passing Out Parade" at Bhopal, in Madhya Pradesh.
The batch of 14 sniffer dogs comprising of all German Shepherds along with their 28 handlers were marched in front of an ecstatic crowd. Their induction will definitely strengthen Indian forest guards and police forces who are in search of animal hunters.
To bring these dogs capable to tackle those antisocial elements, they had to undergo a number of laborious training sessions. They were to be trained for detecting wild animal products such as tiger skins, ivory tusks and bones of endangered birds. They were also trained to locate animals being injured and help authorities to get hold of such poachers swiftly.
These well trained dogs are to be deployed in seven states such as Madhya Pradesh, Assam, Uttarakhand, Maharashtra, Tamil Nadu, Jharkhand and Karnataka that are home to large tiger populations in the country. The induction of new dogs will raise the number of sniffer dog squad in India to 27.
The German Shepherd training program, was jointly funded and conducted by the World Wildlife Fund (WWF) and TRAFFIC. This is a wildlife trade-monitoring network, intented to train even more dogs to drastically decrease animal cooking incidents across the country.
In India Sniffer dogs are being used by the police to detect explosives and drugs. But this isn't the first time that sniffer dogs have been part of India's plans to prevent the killing of animals. But, 13 sniffer dogs have been traced out more than 100 cases by identifying body parts of animals across the country since 2008.
Jimmy, One of the sniffer dogs called Jimmy, was awarded a certificate of merit in 2013 for its meritorious service. The dog had helped authorities to crack down 25 wildlife poaching cases. This is a testimony to the support and relief they provided to the forest and wildlife departments,
Until now, dog squads had been deployed to detect wildlife crimes in countries like United States, Canada and South Africa.
Video on sniffer dogs Passing out parade

Comments