Back to Home
Make-up artist transforms her own face into a host of awe-inspiring characters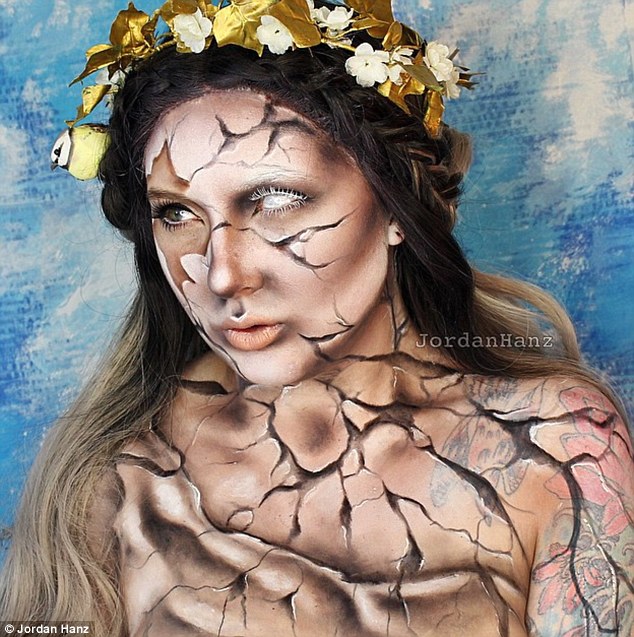 United States of America: A talented make-up artist is found satisfaction by transforming her own face and shoulders by awe-inspiring face paintings.
Jordan Hanz who is 24 now, has been carrying out these living art works for more than a year.
With this unusual nature of face paintings she could transform her face as well as shoulders into a whole host of fantastical characters.
The American creative told 'Buzz feed' that she first got into make-up when she found a couple of artists who were used acrylic paint for applying directly on their faces.
Jordan claimed that she used to take between three and five hours to create her more complicated looks both on her face and body.
She regularly posted mesmerizing time-lapse tutorials on her YouTube channel and has so far accumulated more than 200,000 Instagram followers through the Internet.
Among the popular face painting characters, most extraordinary one is a statue of Greek goddess Aphrodite, who appeared to be crumbling.
Jordan has also got inspiration from video game characters, including Geralt from Witcher 3 and Sackboy from Little Big Planet.
Her first such marvelous project was the painting of a variety of colorful fruits onto her face, nearly a year before.
The moment her husband, leaves for work each day, she used to go upstairs to get her face-painted amazingly.
False-eyelashes, colored contact lenses and sequins are just some of the other tools she has been using to capture the drama.
Video on the face paintings of Jordan Hanz

Comments