Back to Home
Mass wedding arranged for Shia militia fighters in Iraq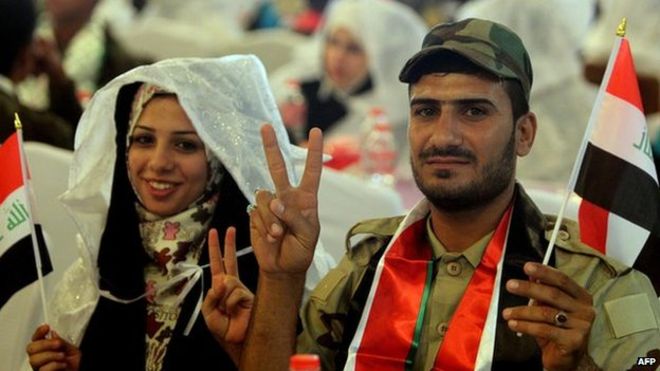 Baghdad: A mass wedding has been held for Shia militia fighters in Iraq. Shia militia men have been supporting the Iraqi government's battle against Islamic State (IS) militants. As per the reports from the privately owned Shafaq News Website 250 couples in the capital Baghdad were participated in this mass wedding ceremony. This spectacular auspicious occasion was organized by the Youth and Sports Ministry of Iraq. The ceremony was held in al-Furosiya Hall, where participants were divided into tables covered with white cloth.
The ceremony began with the national anthem followed by a minute's silence to remember those killed while fighting against Islamic State militants. Then a slogan "Towards Happiness" was raised at the venue on a large banner which also bears a drawing representing a Shia fighter carrying a weapon and equipments and running towards his bride.
All brides participated in the marriage were in spectacular white clothes while the young militia men were in military uniforms. They were also put a scarf having colors of the Iraqi flag in their neck. Some of the young women present at the venue were worn a dress associated with head covering and some in military uniforms.
A ministry official called Akram Na'im said that each couple would be gifted with a television set, bedroom furniture and a fridge. He said that the bash was sponsored by several local and foreign companies, including Iraq's national airline.
The Iraqi government has been supporting the PMU to fight and retake areas controlled by ISIS.
PMU and the security forces backed by international coalition's raids led by the United States were able to retake some areas. But the Islamic organization still controls the major cities as Mosul, one of the first areas that had captured by the ISIS during last year's attack, as well as Ramadi dominated by ISIS in May.
The militias have played a key role in security operations against the radical Islamist group, most notably in the battle to recapture Tikrit in March. But they have also been accused of human right violations, which the militias deny.
Video on the mass wedding of Shia-militia fighters in Iraq

Comments