Back to Home
Michelle Obama once again Dances with Jimmy Fallon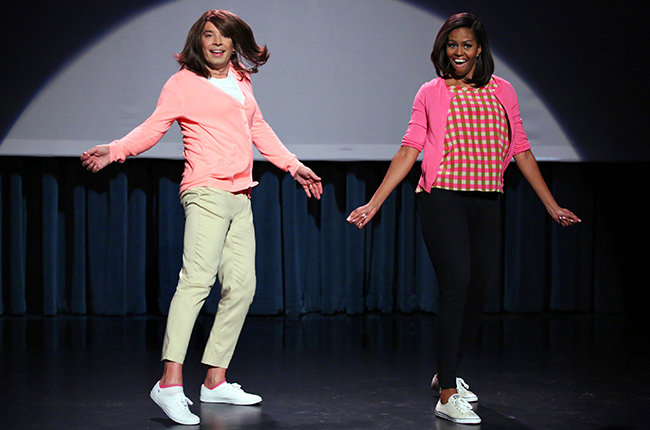 Washington: Michelle Obama once again proved her coolest nature as the First Lady of USA.
Her recent coolest appearance was when she 'lotus danced' with comedian TV host Jimmy Fallon in April 2015.
Her previous coolest appearance was when she mom danced with Jimmy Fallon in February 2013.
Earlier, during so many occasions, Michelle Obama has exhibited her talent and interest in dancing
The spectacular dancing was during the five year anniversary celebrations of the movement, 'Let's Move'.
The participation of the First Lady was to propagate her campaign to end obesity among children.
Michelle Obama joined Jimmy Fallon on his show to perform 'The Evolution of Mom Dancing Part 2.'
The video displaying their performance is said to have been watched over four million times since it was posted on April 2.
Just like in the first round, Fallon was in drag. Dressed in matching pink cardigans, FLOTUS-Fallon performed moves such as 'The Shimmy Twist,' 'The Shush and Tush,' and 'The Getting A Bag From Your Collection Of Plastic Bags Under The Sink.'
However, it was the Fallon move towards the end that prompts a little dance-off with some FLOTUS-Fallon crazy moves.
'The Evolution of Mom Dancing Part 1,' which included moves like 'The Go Shopping, Get Groceries, The Pulp Fiction' etc have become an instant hit with the support of 21 million viewers.
Video on Michelle Obama's dance with Jimmy Fallon

Comments