Back to Home
Mom catches infection from a borrowed makeup brush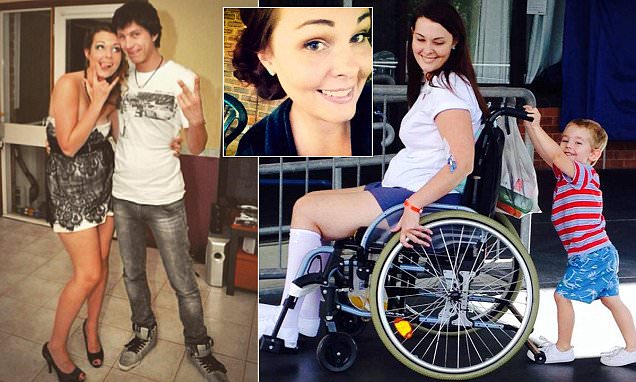 Brisbane: A young mother is forced to spend the rest of her life in a wheelchair after catching a serious infection from a borrowed makeup brush. The brush was borrowed from her best friend for treating pimples.
Jo Gilchrist, 27, was left wiggling in pain on Valentine's Day when she was effected by infection on her body which eventually attacked her spine.
She has been in Princess Alexandra Hospital in Brisbane ever since and doctors are in a all out effort to bring her body out of the bacteria.
Ms Gilchrist told Daily Mail Australia that the ailment started in the form of an ache in her back and she thought that it was her bad posture. But day after day it was getting worse. She was in unbelievable pain and nothing was working properly.
She thought that she was going to die and assumed the pain as highly unbearable.
It took doctors a long time to find out what was wrong with the mother while her body started to go numb and she lost feeling in her legs.
According to the doctors the numbness would go all the way up her arms and also into her chest and when that happened she would have to be put in an induced coma and learn to breathe again.
Ms Gilchrist was airlifted from her country hometown of Warwick to Brisbane where she underwent emergency surgery.
Methicillin Resistant Staphylococcus Aureus (MRSA) (commonly known as staph) are common bacteria.
Staph are usually harmless and many healthy people are carriers of these bacteria. They often hide on their skin or in their nose.
However, sometimes it may cause skin and other more serious infections.
It can spread from person to person via direct contact, hands, towels and personal grooming items.
The bacteria can get into the body through broken skin or sores, resulting in redness, pimples, swelling, tenderness or boils.
Ms Gilchrist was told by the doctors that the infection had damaged her spine so badly and she would never be able to walk again. So they suggested her to be confined to a wheelchair.
Right now, Ms Gilchrist has lost all feeling below her belly button and have no control over her bowel or bladder.
Doctors are still administering high strength antibiotics to get her body out of the infection and she has to spend another three months in hospital before she gets clearance to return home.
Video on mom who caught bacterial infection

Comments