Back to Home
Nonavailability of boots forced a Rugby player in Britain to be sidelined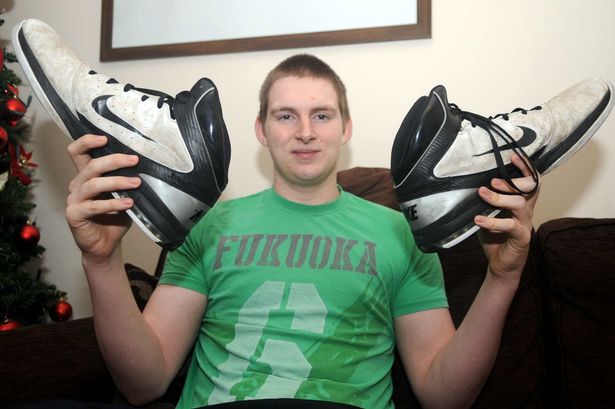 Carmarthenshire(UK): A rugby player in Britain called Carl Griffith is reported to have sidelined since the pair of shoes with respect to the size of his feet are not available.
The young man's feet is so large that he can't find a new pair of boots having size 21.
His last pair of shoes were worn out while playing for his village rugby team.
The 22 year old Carl, from Carmarthenshire, West Wales had been playing Rugby with shoes having size 18 for the past three years.
But, while wearing those pair of shoos, his toes were curled up at the ends.
After keeping them together with black sticky tape they had finally fallen apart.
He is now appealing for help to find a new pair of sports shoes which are suitable for his giant feet.
The non availability of shoes according to his feet size has forced Carl to sit on the bench for local club Trimsaran RFC and thus the team has been missing the 6ft 8inch player in their line-outs.
Carl has contacted so many sports shoes manufacturing firms and came to know that they are not producing sports shoes having size 21.
Video on the Rugby player Carl Griffith with the largest boots

Comments