Back to Home
Officials killed in Somali capital by double explosions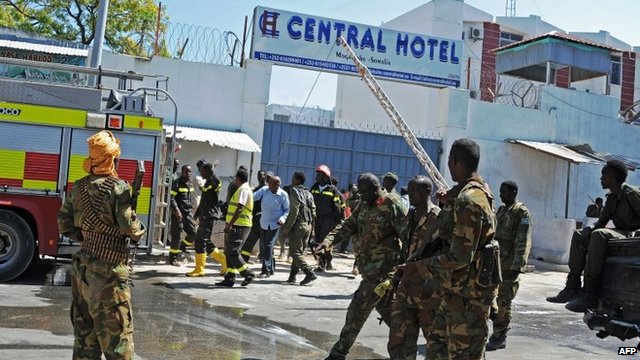 Mogadishu: A car bomb blast and a suicide attack in the Capital of Somalia are reported to have killed about twenty people including senior officials.
The well planned attack was on Central hotel in the Somali capital, Mogadishu. This famous location was often frequented by politicians.
The gunmen involved in the attack were stormed the hotel mosque and opened fire during prayer hours.
The government sources said that an MP and deputy mayor of Mogadishu were killed during the attack.
Al-queda linked Islamist militant group al-Shabab has shouldered the responsibility of the untoward incident.
Even though, the hardcore terrorist group is said to have been driven out from country's major towns, many rural areas in the south are still under their control.
Police Major Nur Mohamed told media sources that the car bomb explosion which occurred at the gate of the hotel was followed by the attack of a suicide bomber who blown himself up in the hotel compound.
Information Minister Mohamed Abdi Hayir Mareeye told BBC that Somalia's deputy prime minister and other ministers had been at the hotel at the time of the blast but had been survived miraculously.
An al-Shabab spokesman told BBC Somali analyst Mary Harper that the targets of the blast and attack were those died officials who according to them were totally "unfaithful".
The terrorist group had previously informed that it would target members of the government.
Earlier this month, al-Shabab had shot dead an MP in a drive-by shooting incident in Mogadishu.
Video on double attack at the Somali capital Mogadishu

Comments