Back to Home
The arrested 'guerrilla feminists' in China are still in detention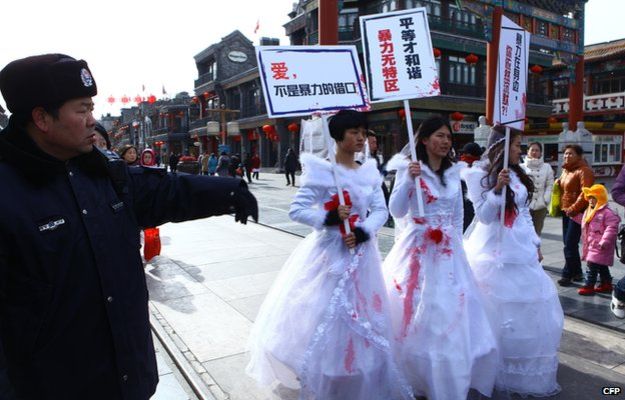 Beijing: The arrested so called guerrilla feminists in China are still in detention. They are dedicated to campaign against sexual abuse, women harassment and domestic violence.
They were frequently carried out guerrilla-style protests to make people aware about their inevitable cause.
Recently during one protest they were worn wedding dresses covered in red paint to symbolize the pathetic conditions of abused women.
In another occasion, they called on the government attention to construct more female public toilets.
According to them, these types of protests will help to avoid problems with the authorities.
On March 8th during international women's day they were planned to hand out leaflets and put stickers on public buses and subways to raise awareness about sexual harassment against women.
But before starting their proposed protest, the 10 female activists were rounded up by the police.
Even after a month, five among the women rightists – Li Tingting, Wang Man, Wei Tingting, Wu Rongrong and Zheng Churan are still remain in custody.
They have been accused of public disorder charges. This accusation is being used by the authorities to silence dissidents.
Among the detained women's rightists, Wang Man and Wu Rongrong are suffering from serious ill health.
Now, there are growing concerns regarding their health.
Both are said to have been suffering from serious illnesses such as chronic heart condition and acute liver disorder respectively.
They are reported to have been moved to a hospital at the detention center.
Their lawyers are of the opinion that their conditions have deteriorated during the time of their detention.
Despite the growing global criticism, China is refusing to release the feminine activists.
A China's foreign ministry spokeswoman Hua Chunying said that no one had the right to ask China to release the accused persons. According to them, the detention would make the relevant people to stop interfering in China's judicial sovereignty in such a manner.
But, the human rights groups have described the arrest and detention of the women rightist as China's harshest crackdown in recent memory.
Video on Chinese feminists who are still in detention

Comments