Back to Home
This year, Saudi beheads 79th convict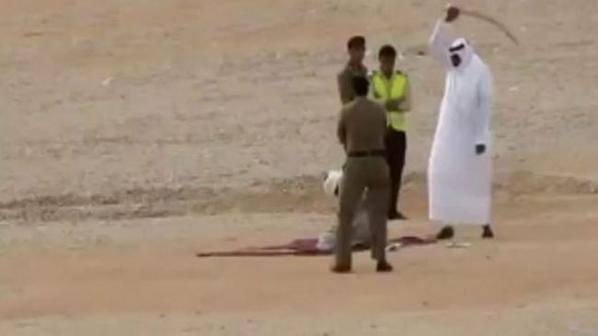 Riyadh: Saudi Arabia is beheaded one of its convicted nationals recently bringing the number of total of the beheaded convicts this year to 79.
Authorities have carried out the death sentence against the convicted Hussein al-Omairi in the northwestern region of Tabuk.
He was reportedly convicted and beheaded for smuggling narcotics.
The Saudi interior ministry which confirmed the execution said in a statement that he was guilty of smuggling the stimulant drug known as amphetamines.
Meanwhile, the increasing number of executions in Saudi Arabia have outraged great concerns across the world.
Last year, the total number of be-headings in Saudi Arabia were said to be 87.
Amnesty International has called an "alarming spike" regarding the executions of locals and foreigners in the kingdom.
Visiting French President Francois Hollande said in Riyadh that his country had been campaigning across the world to abolish the death penalty.
Saudi officials perform the beheading of convicts by sword and then drop their corpses from a helicopter to make sure the public could see the result of the execution.
According to Saudi authorities, the executions reveal the kingdom's commitment in maintaining security and realizing justice.
But the kingdom has been under strong criticism from various human rights groups for the beheading carrying out for non-fatal crimes.
The interior ministry has cited rational motives as one of the reasons for carrying out the punishment, despite criticism from London-based Amnesty International and other global watchdogs.
According Amnesty International, Saudi Arabia is one among the highest execution performed countries in the world. So many Muslim clerics have also blamed Riyadh for indicting and then executing suspects without giving them a chance to defend themselves and described the acts of Saudi authorities as shameful and uncivilized.
Drug trafficking, rape, murder, apostasy and armed robbery are all punishable by death under Saudi Arabia's strict version of Islamic sharia law.
Video and news regarding executions being carried out in Saudi Arabia

Comments