Back to Home
Top sumo stars in Japan perform New Year rituals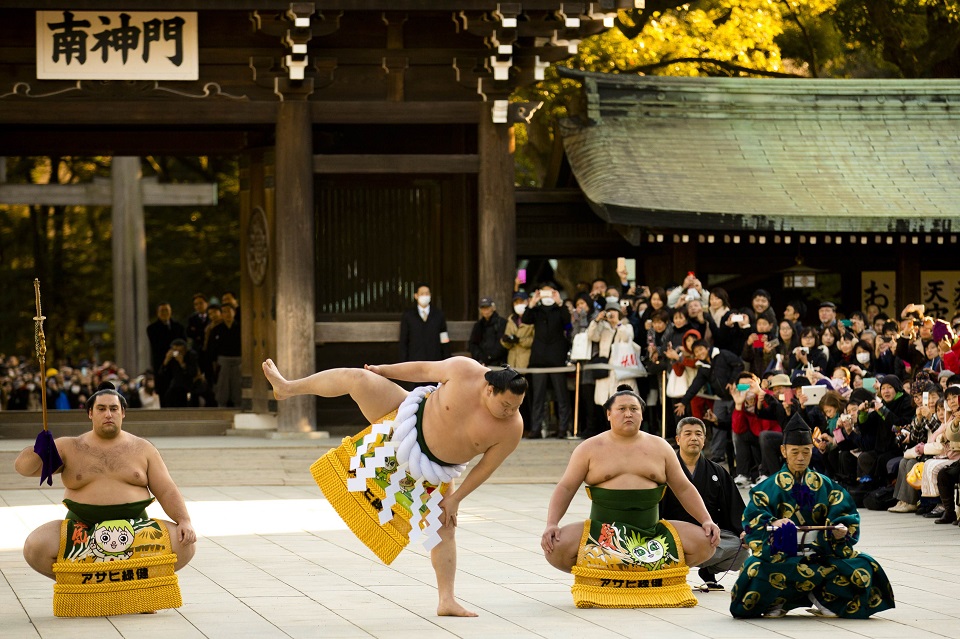 Tokyo: Japan's top sumo wrestlers performed a traditional ritual called foot-stomping rite on account of the New year celebrations. They performed this magnificent feat at Meiji Jingu, the biggest Shinto shrine in Tokyo
Sumo, who have deep roots in Japan's indigenous Shinto religion, were originally started these rituals either in shrines or temples as offerings to gods. They usually wear one loin cloth around their waist even in the extreme cold weather.
The grand sumo champion Hakuho having body weight 151 kilos(332 pounds) and height 1.93 meters(6 ft 4 inches), exhibited his control of balance as he lifted up his bare foot above his head and performed the social dancing on the granite floor.
For the Mongolian-born "Yokozuna," the highest rank in sumo, is just one title away. By grabbing the 33rd career title at the Tokyo tournament he can become Japan's greatest sumo wrestler of all the time. In last November the 29-year-old had equalized the record of 32 titles with the legendary sumo star Taiho, who resigned in 1971.
Hundreds of fans were turned out to see Hakuho and his lighter rivals, Yokozuna, Kakuryu and Harumafuji, who arrived to display their superior skill in the "ring-entering" performances.
A professional sumo has now more than 40 foreign-born wrestlers from nearly a dozen nations ranging from Bulgaria to Brazil. The participation of foreigners has raised eyebrows in the conservative sumo world, with a Japanese wrestler denied the top spot since 2000.
Video on New Year rituals by the Sumo stars in Japan

Comments