Back to Home
Turkish Airlines plane from Istanbul crash-lands in Nepal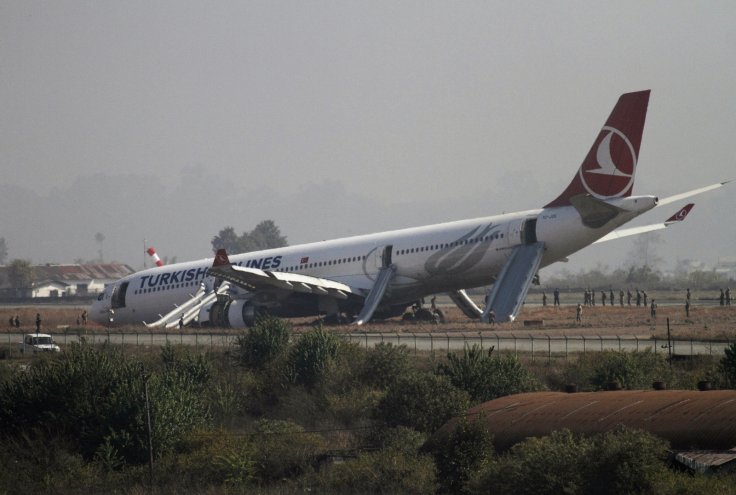 Kathmandu: A Turkish Airlines plane is reported to have crashed when it waved off from the runway as it tried to land in an airport in Nepal.
There were dense fog in the atmosphere during the time of its landing at the Tribhuvan intentional airport in Kathmandu.
The front landing gear of the Airbus A 330 was collapsed and this made the plane to nose-dive through the runway.
No passengers on the flight, THY 726, were seriously hurt following the incident while some were given medical attention after evacuation.
During the seven hour flight, the plane is reported to have circled for half an hour over Nepal before it made a second attempt to land.
Apart from the dense fog at the airport, the runway was highly slippery following the downpour of last two days.
Airport officials said that the Turkish plane with 238 people on board was coming from Istanbul when it skidded off from the runway.
Only one of the passengers on aboard of the Flight was slightly injured and sent him to the hospital immediately.
Turkish Airlines spokesman Ali Genc said in a statement that all passengers and crew members had been safely evacuated and taken to the terminal.
He has also said that necessary precautions were taken to draw the aircraft out of its current place while relevant works are being carried out to overcome the issue.
As per the photos posted on social media, the plane could be seen resting off the runway in dense fog.
The front of the Airbus 330 was damaged and the plane happened to be stuck to the field.
Video on the Turkish plane which crash landed in Nepal

Comments