Back to Home
Ukraine servicemen play football on road following the ceasefire accord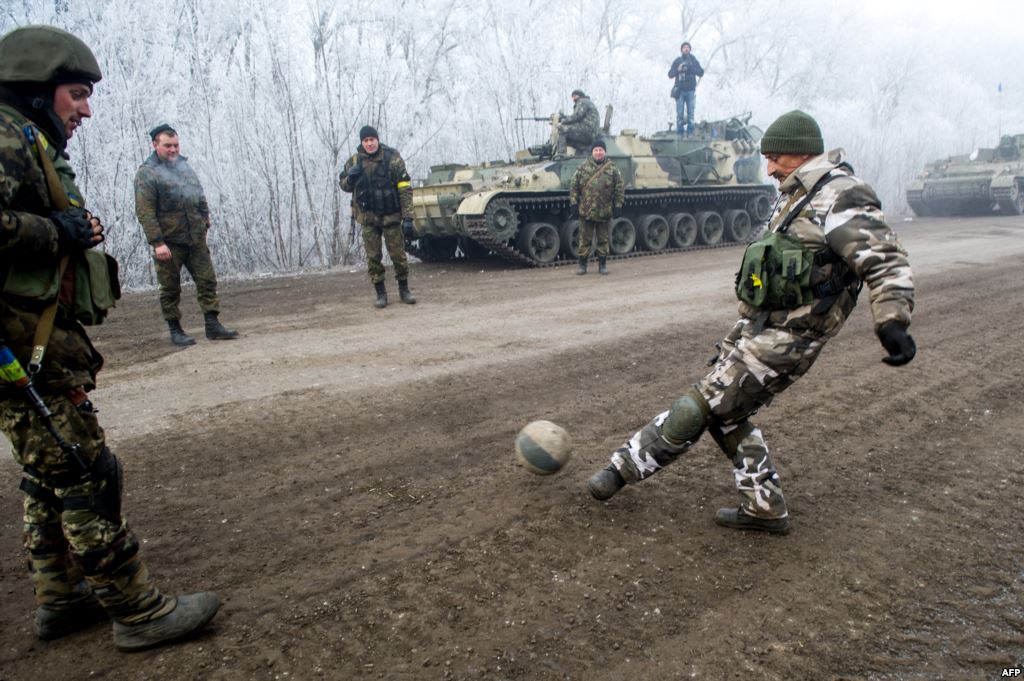 Debaltseve: Ukrainian soldiers were seen playing football at Svitlodarsk on a road which approaches Debaltseve.
This unusual entertainment of soldiers was fifteen hours after the cease-fire that came into effect.
But they had to stop playing the game to let another army truck to pass by.
The region has been suffered deep marks left by tank tracks which had to move through the road to Debaltseve.
Even though the ceasefire has come into effect, the aftermath of the same has been observed with utmost vigil by both the sides.
There had been intense accusations by Kiev and the US, that Russia had fueled for a final push by rebels to gain a territory just before the start of the ceasefire.
Ukrainian President Petro Poroshenko has already ordered his troops to maintain calm according to the cease-fire accord which came into effect from midnight (2200 GMT).
The decision for a peace agreement which led to the ceasefire deal was reached in Minsk earlier this week with the leaders of Russia, Germany and France.
The Ukraine ceasefire that came into effect has been keeping, despite certain reports regarding scattered shelling by the rebel group.
The shelling was mainly around the besieged town of Debaltseve.
Video on Ukraine soldiers playing football

Comments