Back to Home
Australian Prime Minister voices against the severed head image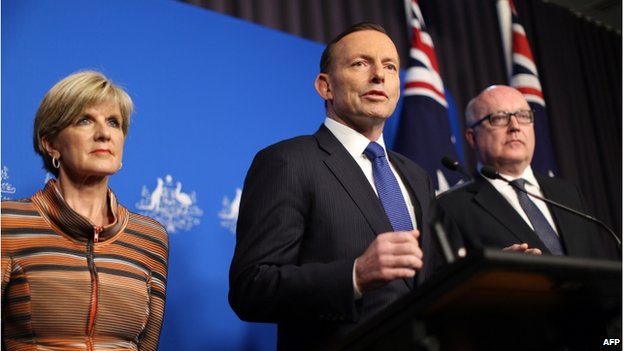 Sydney: Australian PM Tony Abbott has voiced strong condemnation after the appearance of an image showing a boy, reportedly the son of an Australian ex-terror convict, holding the cut-off head of a Syrian national.
The image is said to have posted on the Twitter account of the ex-terror convict, Khaled Sharrouf.
The said ex-terror who had planned attacks in Australia, has now been joined with Islamic State (IS) militants in Syria.
On seeing the image, Mr. Abbott exclaimed that the IS militants are absolutely barbarians in nature.
In the image, a young boy who looked to be as early primary school student was holding up the severed head with both of his hands. He was appeared in the picture by wearing a baseball cap and a blue shirt.
The caption of the controversial image was "That's my boy". It is said that the image was taken from the northern Syrian city of Raqa.
In another picture of Sharrouf in combat fatigues, he was posing with three children. According to security personnel, the three children might be his sons.
Sharrouf was jailed in 2009 for four years for being part of a cell planning attacks in Sydney and Melbourne.
After his release he was banned from leaving Australia, but used his brother's passport to travel to Syria with his family.
After the appearance of the images, Australia has issued a warrant for his arrest in July.
Video on the crisis in Syria

Comments