Back to Home
Authorities in India inquire about the identity card of Hanuman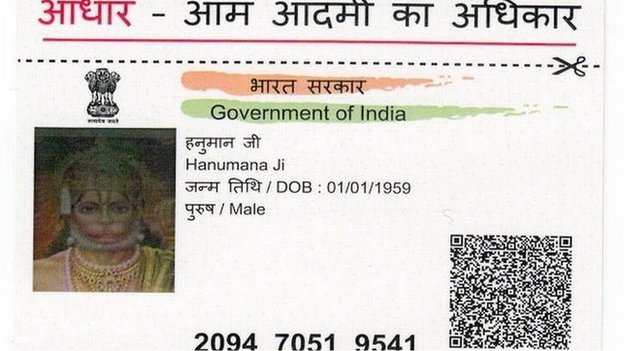 New Delhi: Authorities in India are investigating how Hanuman, the monkey god, has been issued a biometric identity card.
The photo in the identity card is that of Hanuman, one of the key characters in the Hindu epic Ramayana.
As per image in the card, he is worn gold and pearl jewelery and a crown.
The matter came to know when a postman attempted to deliver the card, but could not find a Hanuman in the mentioned address.
When he looked at the photograph he realized that it is an act of mocking.
It is not clear that who is responsible for this and to whom the scanned fingerprints on the card belongs to.
In the card god Hanuman is referred as "Pawan-ji's" son.
As per the Hindu mythology the god is known as son of 'Pawan' (wind).
The address mentioned in the card is from the western state of Rajasthan while the given mobile number is a fake one.
Hanuman is generally depicted with a well-built human body, a red monkey's face and a tail.
There are also temples dedicated to Hanuman all over India.
Postman Heeralal Saini, who was given the card for delivery, returned the same to the post office after he failed to find "Pawan-ji's son Hanuman" and connect through the said mobile number.
The post office authorities are now planning to return the card to the Bangalore office of Unique Identification Authority of India (UIDAI).
Video on Hanuman Adhar card

Comments