Back to Home
Buildings in New York collapse after explosion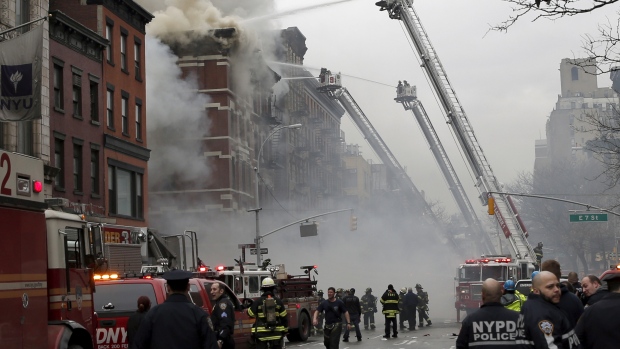 New York: Buildings in New York are reported to have collapsed after a powerful explosion.
The impact of the blast has caused two buildings to collapse in the city of New York.
At least 19 people have been injured following the collapse of the buildings.
More than 200 fire-fighters were converged at the venue to extinguish the devastating fire. blaze that affected Four buildings in the area are badly effected by the blaze.
Mayor Bill de Blasio said that there were no reports of missing persons, even though the situation was unstable.
According to officials some works were being done to the gas utilities of the building just before the blast.
The explosion was initiated following a fire in a building where a sushi restaurant has been functioning.
The blaze was then quickly spread to adjacent buildings.
Emergency dispatchers started receiving calls reporting the incident immediately and they appeared on the scene within about three minutes,
The blazed buildings on Second Avenue at East Seventh Street are near New York University and the Washington Square Park area.
Manhattan's East Village is a locality of small businesses, restaurants and apartments.
Thick overcharge of dark smoke could be seen across Manhattan.
Officials are concerned about the air quality over the area, and told residents to keep their windows closed.
A year before, there had been fire following a gas explosion in a building in East Harlem.
Eight people were killed and about 50 injured during the untoward incident.
Video on the New York building explosion

Comments