Back to Home
Hollande to give France's highest award to train heroes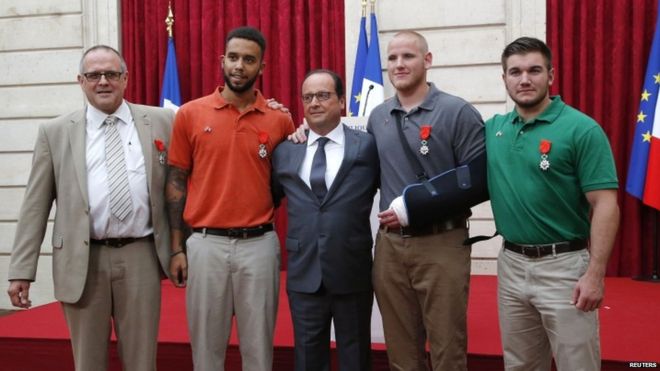 Paris (AFP) – French President Francois Hollande has decided to present three Americans and a Briton with the country's top Legion d' Honneur medal in recognition of their bravery in tackling a terrorist gunman happened to be in a packed train.
A French citizen who
was also engaged in tackling the suspected jihadist, will be presented the honor at a later date.
As per his wishes to remain anonymous, his name has not yet been published by the authorities.
It was Napoleon Bonaparte who introduced 'The Legion d' Honneur', the highest gallantry award in France in the year 1802.
This award was given in recognition of both civil and military achievements.
The train passengers are to be awarded the Chevalier de l'ordre national de la Legion d' Honneur, or Knight of the national Order of the Legion of Honor.
Global dignitaries such as Belgian Prime Minister Charles Michel, US Ambassador to France Jane Hartley and members of France's government including Prime Minister Manuel Valls are expected to attend the prestigious gallantry award presenting ceremony.
During the incident, Alleged gunman Ayoub El Khazzani was opened fire on a Paris-bound train, injuring a man before being tackled to the floor and suppressed by Spencer Stone, Alek Skarlatos, Anthony Sadler and Briton Chris Norman.
However, the 25-year-old Moroccan national has said that his intention was not to carry out a terror attack, but to rob the passengers on the train.
All four men, who were traveling on the train as passengers, have been hailed as heroes for rising up into action in time, when they saw the gunman trying to trigger his rifle.
Video on the train passengers who are chosen to give highest gallantry award in France

Comments