Back to Home
Hong Kong police use pepper spray on democracy protesters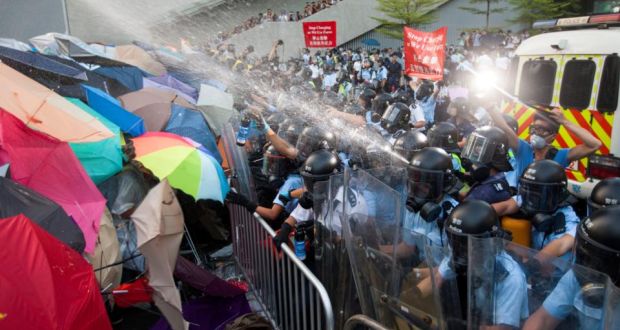 Hong Kong: It is reported that the Hong Kong police has used pepper spray to disperse pro-democracy protesters and clear a major road block created by them.
The protesters had been barricaded the public road with concrete slabs, heightening tensions in the financial hub.
As per the reports, the clashes were the worst in over a week between police and largely student protesters, who entered into a tunnel on a key four-lane main road, halting traffic and demanding for universal voting.
Large numbers of police forced the crowds go back, with the support of pepper spray.
According to the protesters, the demonstration is for establishing democracy.
Several protesters who were wrestled to the ground had been taken away.Bouncy Castle Midi Ferme
Scores of other officers then entered into the tunnel in the Admiralty district and began clearing away the temporary walls formed from concrete slabs.
They then partially reopened the tunnel for the traffic.
Protesters had been demanding full democracy for the former British colony, but their two-week campaign had caused traffic chaos which fueled frustration in the Asian financial center, draining public support.
Video on the firing of pepper spray on protesters

Comments