Back to Home
Human shield to protect venues of Holi celebrations in Pakistan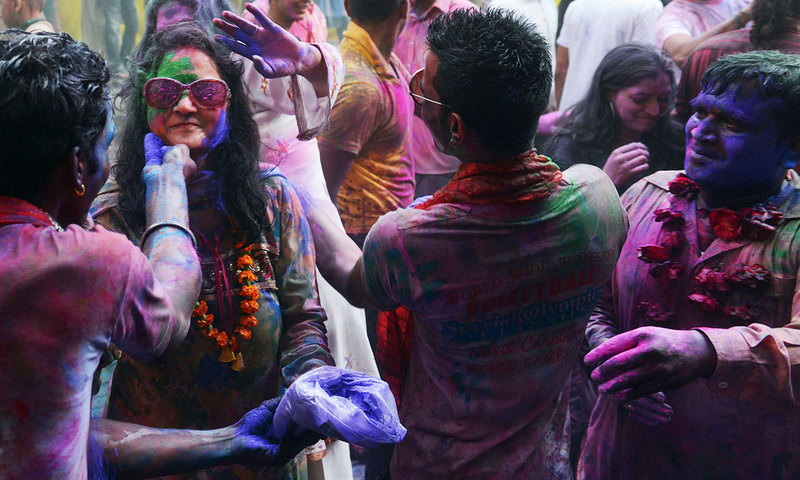 Islamabad: It is said that a human shield was being formed at the venues of Holi celebrations in Pakistan.
People celebrating Holi at Swami Narayan Temple in Karachi were protected in such a way to ensure that they won't be effected by any kind of disturbance or terrorism.
It was NSF, the National Student's Federation who organized the formation of a human shield around the Hindus in Pakistan who came out to celebrate the festival of colors.
Thus the volunteers of NSF highlighted the goodness of solidarity in Pakistan.
The NSF has used the social media to spread information about the event, extending e-vitiations to others.
A member of the NSF who described it as a "progressive leftist organization" dating back to the NSF of the Ayub Khan era, the former president of Pakistan.
He cited the desecration of Hindu temples, forcible religious conversion of girls against their will, and suppression of culture and religious practices as reasons for showing solidarity with and protecting Hindus.
He explained that they were not religious fundamentalists who used to take religion into their own hands.
Thus, the sentiments of minorities were echoed by the NSF. Through this demonstration they were drawing the attention of the government regarding the problems concerning religious minorities.
Dawn daily has emphasized the demonstration as an attempt to promote interfaith coexistence and cooperation among different religious and ethnic groups in Pakistan.
Video on Holi celebrations in Pakistan

Comments