Back to Home
India celebrates International Kite Festival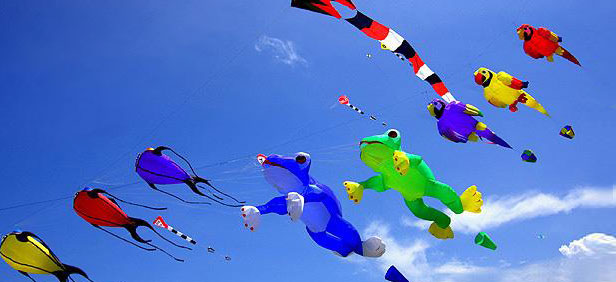 Ahmadabad: The International Kite Festival in India is celebrated during the second week of January.
The festival is considered as one of the biggest cultural celebrations in the country. Generally this colorful festival is commemorated in Gujarat state.
Months before the festival, homes in Gujarat start manufacturing kites for the festival.
The 27th edition of the popular International Kite Festival is being held across four cities in Gujarat.
22 Kite fliers from different countries and states of India are participated in the International Kite festival held at Tapi River front in the city.
This festival is organized jointly by state government and tourism department of the state.
The International Kite Festival has become a highly popular and successful annual event regarding the Tourism's strategy of Gujarat.
The festival is expected to develop fairs and showcases, and promote the culture and tourism offerings of the state.
Nowadays, Gujarat is fast assuming an enviable position in the tourism map of India.
The International Kite Festival can successfully showcase the vibrant culture of Gujarat and thus attract more and more people across the country and the world.
Video on International Kite Festival in India

Comments