Back to Home
Mangalam Carp Estate in Wayanad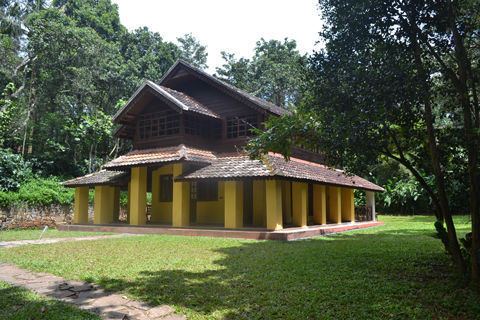 The heritage site, Mangalam Carp Estate in Wayanad is located near Sulthan Bathery. The estate encloses an eye-catching coffee, spice plantations which widely spread-out in the Wayanad Hill ranges belonging to the Western Ghats. The coffee-spice plantations in the estate is lovingly referred as 'Pepper trails'.
The estate which encloses a charming environments, comprises of lands and a marvelous bungalow which proudly highlights its glorious past. Both the bungalow and plantation life are remaining unchanged over the last hundred years.
The charming 140 year-old colonial bungalow is popularly known as the Pazhey Bungalaav. Lovingly restored, the bungalow has been furnished with traditional antiques, family heirlooms and hand-picked colonial furniture. This is an absolutely perfect place to sit back and enjoy the plantation life amid evergreen dense forest.This charming old colonial building houses two independent suites, each with antique four poster beds, en suite bathrooms and other luxury amenities.
Mangalam Carp Estate is said to have founded in the years of 1800 by Colin Auley Mackenzie, one of the mastermind planters of the period. He planted coffee, tea & spices in over the 200 acres of the estate land. In 1932, the estate was bought by P. Balram Kurup, an innovator in the cultivation of rare spice and aromatic plants. Because of his keen interest and glorious efforts, the plantation is now home to most exotic and extensive range of flora in Wayanad. Nowadays, the estate comprising of plantations and bungalow is being managed by the family's third generation. Every effort has been taken by them to preserve the traditional farming methods established by its founders.
Video on the spectacular coffee-spice plantations in Wayanad
Comments