Back to Home
New Electric Bus Can Drive 563 Kilometres On A Single Charge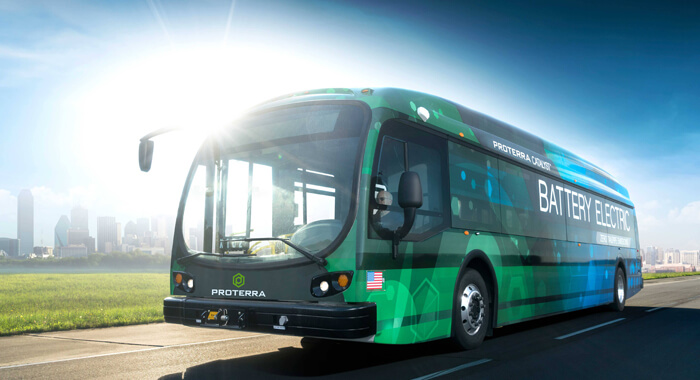 Every day you find one or the other inventions and innovations in every field, especially in the automobile industry. We live in an era where we can find modified cars or supercars and even hypercars going on the electric way. But it is not just the case with cars. New advancements have been done even in "public transports"!! The electric bus builder, Proterra, has "uncovered" its new Catalyst E2 model, which highlights a massive 660 kilowatt-hour battery pack giving a real world range extending to 560 odd kilometres. The E2 in Catalyst E2 model means efficient energy.
–


–
There are quite a huge number of cities around the world who need such buses. This is only because they want to improve the quality of air in their municipalities or cities. Nowadays you find reports regarding the air getting polluted due to the smoke from the vehicles. This electric bus could be made a solution for all these issues. While almost all the buses in India work either on diesel or CNG, an electric alternative may benefit them make the switch. However, it is always concerning the range and time consumed in charging. According to Proterra, the E2 solves the range issue nearly entirely. In testing, it achieved to travel more than 966 kilometres on one charge, while the real-world range is clinched at 312 to 563 km depending on the weight it takes in.
Proterra Catalyst E2 Side
–

–
The Proterra E2 measures only over 42 feet and seats 40 passengers. It has a carbon fibre reinforced composite body which aids in weight reduction. This is the reason why the unladen weight of the bus is just 18,000 kilogrammes.
Ryan Popple, Proterra CEO, says that with the Catalyst E2 allowing a no-compromise replacement for all fossil fuel buses, battery-electric vehicles have now broken down the last barrier to widespread market adoption.
–


–
Proterra Catalyst E2 Rear
Although there is a move by the Indian government to embrace hybrid technology in public transportation, all-electric buses may not be that far away.
Comments