Back to Home
Ninety year old women marry in Iowa after living together for 72 years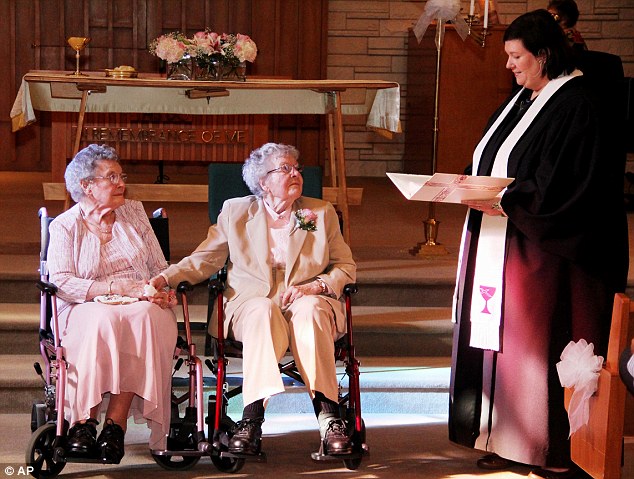 Iowa: A lesbian couple in their nineties have finally married after living together for 72 years.
Vivian Boyack and Alice 'Nonie' Dubes have married recently at First Christian Church in Davenport.
The age of Miss Boyack is 91while that of Miss Dubes is 90.
Both of them were sitting next to each other in wheelchairs during this auspicious occasion.
Rev Linda Hunsaker who officiated the ceremony told the gatherings of their nearest and dearest ones that their decision to marry each other should have come long time ago.
The two women are said to have met in their hometown of Yale, Iowa, while growing up.
Then they shifted to Davenport in 1947 where Boyack worked as a school teacher while Dubes performed some payroll works.
Dubes said that both of them together enjoyed their life so much and over the years they had traveled to all 50 states including the provinces in Canada.
They have also traveled to England twice.
Boyack said that a lot of love and good works were needed to maintain their relationship in good terms for the past 72 years.
Their longtime friend Jerry Yeast, 73, said that he came to know the couple when he started working in their yard while he was a teenager.
According to him, these two women are very special.
In Iowa the gay marriage is said to have allowed from 2009.
Video on the gay marriage of aged women in Iowa

Comments