Back to Home
Sulthan Bathery Jain Temple in Wayanad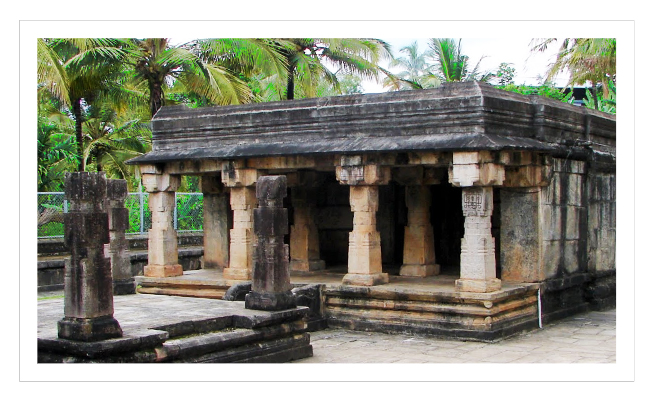 The Sulthan Bathery Jain Temple is a primitive religious center believed to have constructed in 13th century. The heritage structure which locates 12 kms away from Sulthan Bathery is very popular and highlights the influence of Jain community migrated to Wayanad during ancient times. The wholly granite stone temple is an excellent example of Jain architecture and culture prevalent during that time-frame. Situated amidst lush green vegetation and vast expanse of wooded trees, the heritage construction is the living memorial of the Jains who had lived in Sulthan Bathery and adjoining areas of the Wayanad district. The structural design of the temple is very much similar to Vijayanagar architecture and made salient with eye-catching sculptural works. The carvings seen on the granite pillars of the religious center are absolutely outstanding in appearance. Inscribed images of Theerthankaras are also seen on certain pillars as well as on the walls of the temple. Theerthankaras are considered to be the prophets or sacred priests of the Jain religion.
The exclusive stone roof of the temple supported by giant granite pillars is a fantastic experience. Spectacular frameworks are also seen along the interior stone wall, that adorns the temple. The open varandah seen near the shrine leads to sanctum sanctorum of the temple where a square shaped stone having an inscribed image of Mahavir Jain is placed. In front of this unique structure there is one raised platform with well-defined stone pillars. One such raised platform made up of granite is also seen in front of the main entrance. This too bears carved pillars while their fluted columns end without any crown stones. The surrounding grounds near the construction too are paved with granite. No piece of wood is seen used for the erection of the temple. The exclusive stone roof of the temple is a notable specialty of the construction. The ancient well and stone-shed, located in the widely spread temple premise is believed to have historical importance. Hence, the primitive construction is now under the supervision of Archeology Department.
Even though the temple surroundings had large Jain population during ancient times, no such Jain communities are seen in this area at present. Later years, the temple and its surrounding areas might have become a center for commercial activities in the region. Nowadays, the Jain temple with sculptured stone pillars are widely attracted visitors.
Video on Sulthan Bathery Jain Temple

Comments