Back to Home
Team-leader of Sabarimala Devotees and dedication of presents to him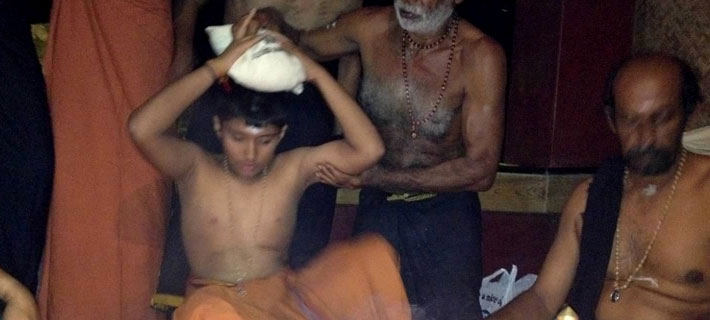 As per the primitive culture of India, teachers have a very respectable position in the society. He must be able to remove the unawareness of his followers and thereby help them to experience the divine splendor of the God. According to the ancient Indian tradition, the followers have to honor their teachers, at the end of their education and salute them by offering respectful presents. These humble presents can be made with respect to their wealthy condition.
Likewise, in the case of Sabarimala pilgrims, they usually give prominent reputation to their team leader who has been a master devotee. The must have been to Sabarimala nearly eighteen times consecutively. The followers have to express tremendous faith as well as dedication towards their team-leader. It is said that the devotees need to see him as the representative of Swami Ayyappa. It is through this master devotee that the fresh devotees can know about Swami Ayyappa and experience the divine splendor of the Lord. Through strenuous penance and procedures of austerity, the team-leader transforms everyone in his team as perfect worshipers of Swami Ayyappa. It is his responsibility to make his followers well known about the austerity involved penance procedures and mythological backgrounds regarding the incarnation Swami Ayyappa.
The holy reward to the team-leader can be made as an association of Arecanut, holy leaves and coins. Followers should offer their gift humbly with utmost dedication while the team-leader has to receive it with total satisfaction. He has to give utmost importance to the honorable gifts offered to him by his followers.
It is said that the Sabarimala pilgrims have to offer such honorable presents to their team leader at least eight times during the journey. They are:
1. While wearing the holy garland
2. While tieing-up the black towel on the waist
3. During the divine dance steos at Erumeli Petta
4. When jungle trekking starts
5. While performing the 'give and take' formality of the holy stone taken from the Ahzutha watercourse
6. While supporting the holy head-load of the devotees at the Pamba river banks
7. While supporting the head-load of the devotees after viewing Lord Ayyappa
8. While untieing the holy garland after the pilgrimage.
| | |
| --- | --- |
| | Things to be carried out by the Sabarimala DevoteesRead more… |
Video on a Guruswami

Comments