Back to Home
Tomb of Saddam Hussein destroyed during the fight to recapture Tikrit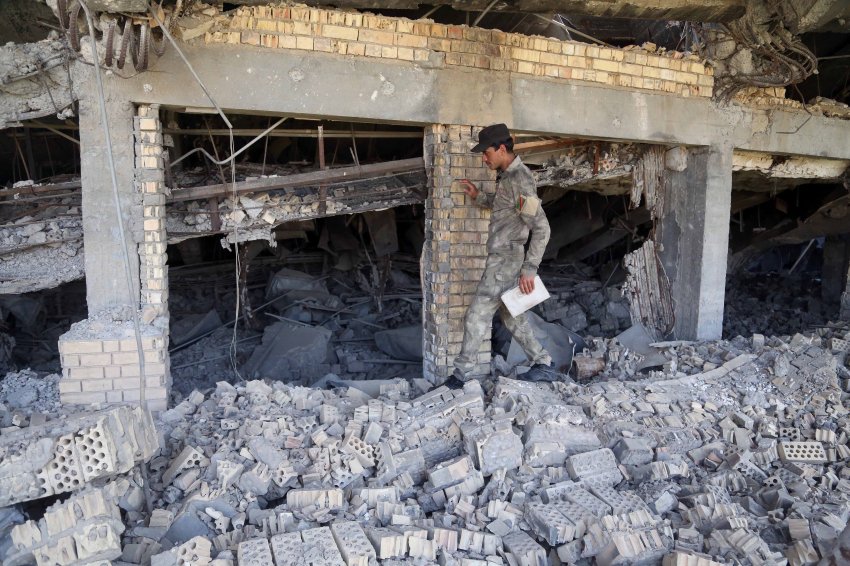 Baghdad: The tomb of former Iraqi leader Saddam Hussein has been almost completely destroyed in fighting near Tikrit.
The spectacular large mausoleum in the village of al-Awja are now said to be only pillars that held up the roof.
Iraqi forces as well as Iranian-backed Shia militia are in a struggle to drive Islamic State (IS) militants from the city center.
It is said that the local Sunni population had removed Saddam's body from the mausoleum last year and taken to an unknown location.
The demolition of the tomb is assumed to have occurred when fighting intensified at north and south of Tikrit. Meanwhile, the Iraqi security forces are expected to reach the city center within 48 hours.
As per the footage released, the historic mausoleum that located at the south of the city was seen reduced to concrete debris.
Poster-sized pictures of Saddam that once covered it have been replaced with Shia militia flags and pictures of militia leaders, including Iranian General Qassem Soleimani who gives valuable advice to the Shia militias.
Captain Yasser Nu'ma, an official of the militias said that abundance of IS militants were assembled in the area where the grave of Saddam Hussain was situated
The IS militants are said to have arranged traps around the tomb by planting bombs.
Earlier, there were reports from IS militants saying that the tomb had been destroyed completely.
But, local officials who denied this, were of the opinion that it had been looted and suffered only minor damages.
The former Iraqi leader Saddam Hussein, who was from Tikrit, was captured by US forces in 2003.
Then an Iraqi tribunal backed up by the US convicted him of crimes against humanity.
He was accused of killing Shia Muslims and Kurds, and hanged him in 2006.
His mortal had been kept in the mausoleum since 2007.
The featured tomb was a marble octagon structure with a bed of fresh flowers at the center where the body was buried.
According to Iraqi media, people loyal to former leader were removed his remains last year amid fears that it would be disturbed during the fighting.
After capturing Tikrit by the IS, several hundred militants are believed to be positioning there.
The pro-government forces moving against them include about 3,000 Iraqi troops, 20,000 Shia militiamen and a small force formed of Sunni tribesmen.
According to Iraqi officials, the seizure of Tikrit would be a vital stepping stone in the recapturing of other territories, including Mosul, which are currently under IS control.
Video on the destruction of Saddam's tomb

Comments