Back to Home
Wildlife Sanctuaries in Wayanad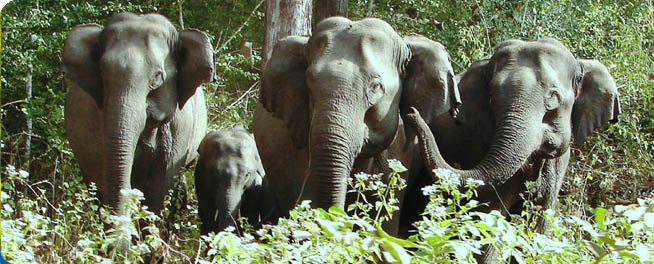 The elevated Wayanad region is blessed with evergreen dense forests which are home to numerous wild animals. These wide spread forests comprising of different species of flora and fauna are protected and cared as wild life sanctuaries. A wildlife sanctuary is a forest shelter where animals live in peace and dignity. These wildlife caring centers promise to take in and care for any animals that have been abused, neglected, or abandoned and to keep them for life. A Sanctuary respects the integrity of individual animals by providing them safe and healthy environments, and ensuring the availability of adequate food and water. To full-fill these requirements these forests are specifically designed and enclosed for the wellbeing of the animals living there.
In the Wayanad wildlife sanctuary, the commonly existing forest types are South Indian Moist Deciduous forests and West coast semi-evergreen forests comprising of teak, eucalyptus and Grewelia plantations. The average annual rainfall in the region is being recorded as 2000mm. The major tree species seen in these rain forests are Tectona Grandis, Terminalia sp, Dalbergia latifolia, Anogeissus latifolia, Grewia tiliaefolia, Adina cordifolia, Cirmamum zeylanicum, Pterocarpus marsupium, Vateria indica, Largerstroemia lanceolata, Artocarpus hirsute, Macranga peltata etc. As per census records, the various wildlife in Wayanad includes 45 species of mammals, 45 species of reptiles, 203 species of birds, 30 species of amphibians and59 species of fishes. Common animals seen in these forests are Elephant, Gaur, Tiger, Panther, Sambar, Spotted Deer, Barking Deer, Wild Boar, Sloth Bear, Nilgiri Langur, Bonnet Macaque, Wild Dog, Common Otter, Malabar Giant Squirrels etc.
The important wildlife sanctuaries in Wayanad are Munthanga, Tholpetty and Begur. There is also one bird life sanctuary at this mountain bounded forest region which is popularly known by the name 'Pashipathalam'.
| | |
| --- | --- |
| | Muthanga Wildlife Sanctuary – The animal caring center at Muthanga is said to be the second largest wildlife sanctuary in the state which covers an area nearly 344 sq.km. The fantastic wildlife caring center which established in 1973 is located about 16 km east of Sulthan Bathery….Read more… |
| | |
| --- | --- |
| | Tholpetty Wildlife Sanctuary –The Wild animal caring center at Tholpetty is one of the three prominent ranges of Wayanad Wildlife Sanctuary. The charismatic green forest comprising of numerous wildlife locates 20 km east of Manathavady at the northern region of Wayanad….Read more… |
| | |
| --- | --- |
| | Begur Wildlife Sanctuary –The reserve forest at Begur is about 20km east of Mananthavady in the Wayanad district. The marvelous dense forest of this sanctuary which locates amid misty Western Ghats is also diversified across Tamil Nadu and Karnataka….Read more… |
| | |
| --- | --- |
| | Bird Sanctuary – The lovely bird sanctuary located in the Bramahagiri hill ranges in Wayanad is popularly known by the name 'Pakshipathalam'. The enchanting landscape site amid dense forest is situated about 1740 meter above sea level….Read more… |
Comments