Back to Home
World's healthiest Christmas dinner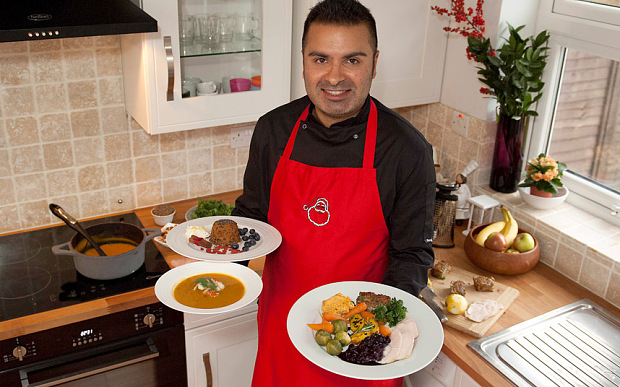 London: A British chef has reported to have prepared the world's healthiest Christmas dinner. It is a three-course festive feast which render fewer calories of energy than a single bowl of mixed nuts.
In Gurpareet Bains' "Guilt-Free Gala" is with a total of just 930 calories which is more than two-thirds less than the classic lunch.
This contains turkey with roast potatoes and all the trimmings, a lobster and vegetable starter, and a rich fruit pudding with mascarpone cheese for dessert.
But nutritionist Bains has replaced traditional, oily ingredients with healthy super-foods to reduce its calorific value by 71 per cent.
The entire meal contains just 19 grams of fat – the equivalent of three mince pies or a single serving of cheese and biscuits.
Bains, the award-winning Anglo-Indian chef and bestselling cookery author, had first hit the headlines in 2009 after creating a cancer-fighting curry.
Some of the fans of Bains include popular celebrities DJ Chris Evans and designer Vivienne Westwood, and the Royal Family.
Bains, who has been perfecting the Guilt-Free Gala since 2012, said that Christmas is a time for indulgence and can be enjoyed the finer things in life.
According to researchers, people in Briton are unknowingly consuming a shocking 7,000 calories on Christmas Day alone while the daily recommended allowance is being swallowed before sitting down for dinner.
The endless supply of chocolate, snacks, mince pies and festive drinks also means that an average British individual can gain 6lbs in the eight days falling between Christmas Eve and New Year's Day.
Video on the healthiest Christmas dinner
Comments