Back to Home
Bangkok bomb blast assumes to be aimed at foreigners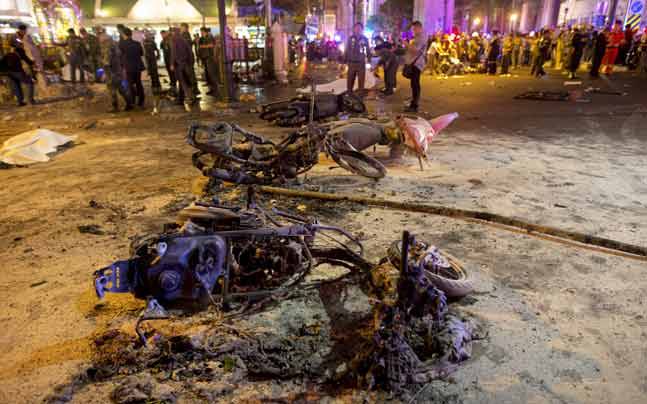 Bangkok: A horrific bomb blast has been reported near a shrine in Bangkok, the capital of Thailand.
Nearly 19 people were lost their life and more than 120 succumbed to injuries following the blast.
According to the defense minister of Thailand the bomb explosion at a shrine in Bangkok was deliberately to target foreigners with an intention to harm tourism industry and the economy of the nation.
Prawit Wongsuwan vowed to capture the culprits of the attack in the capital, which killed at least 21 people while injuring more than 120.
The Erawan Shrine is a renowned tourist attraction in Thailand and foreigners used to visit this spectacular holy location in abundance.
The attack has not been claimed by any
terrorist groups and it is unclear yet, who were targeted by the blast.
The Hindu shrine, and the nearby busy Ratchaprasong junction were crowded when the explosion occurred.
Prime Minister Prayuth Chan-ocha said that the government was setting up a war room to co-ordinate its response, according to the Nation TV channel.
Thailand police chief Somyot Poompummuang described the detonation as a "pipe bomb blast" and said it could have been placed inside the shrine.
As per the reports from experts about 3kg of TNT had been used in the blasted bomb.
According to the police chief, those who had planted the bomb was aimed to kill a lot of innocent people.
As per the official information, 10 Thais had been confirmed dead, along with two Chinese and one Filipino. Altogether, 123 people had been injured.
The Erawan Shrine, which was crowded at the juncture of the blast, is a major tourist attraction and foreigners, including Chinese, are among those dead.
Video on Thailand bomb blast

Comments