Back to Home
Bengal tiger on a car roof turns out to be a stuffed animal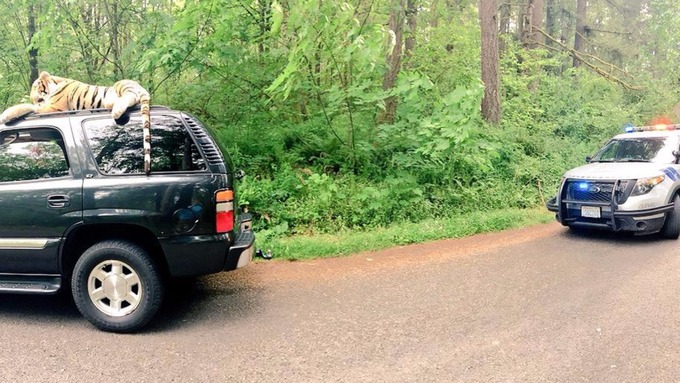 Camas: Police Officers in Washington State is reported to have received a 911 call from a member of the public who claimed that he had been viewed a wild attacking animal on top of a sports utility vehicle at Lacamas Lake, which is a popular recreation area.
Police rushed to the site where the Bengal tiger was lying on a car roof.
But they later understood the animal to be a stuffed one.
Rob Skeens, a police sergeant in the city of Camas, said that the person was thought the animal to be a real Bengal tiger.
He added that no report was taken followed by the incident as there was no law against strapping stuffed animals on top of a car.
According to a local newspaper, 19-year-old Connor Zuvich found the stuffed animal among some rubbish bags at the lake and decided to strap it to the top of his black SUV.
He later tweeted with a picture of his vehicle which was being stopped by the police.
He said that someone had called 911 and reported a "live Bengal tiger" on top of his car.
Connor told local media that he had been kept that stuffed tiger on top of his truck since the 911 call arrived.
Video on the real Bengal Tiger

Comments