Back to Home
China justifies deployment of its submarines in Indian Ocean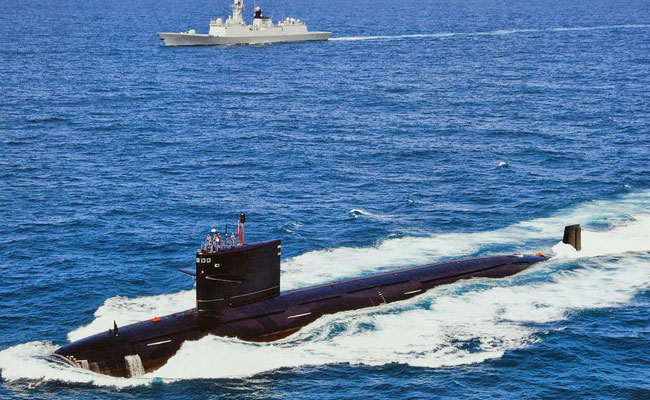 Beijing: Justifying the recent deployment of Chinese submarines in the Indian Ocean, a Chinese military strategist at the People's Liberation Army's (PLA)official Zhou Bo said that the Chinese navy has right to protect its interests in the region. They wanted India to be broad minded enough in this regard.
Meanwhile, they have admitted that much of China's energy interests are in the Indian Ocean.
He was responding to Indian concerns about the deployment of a Yuan-class submarine which sailed through the Arabian Sea to Karachi in May. Moreover, there were deployment of submarines near Colombo last year.
According to Zhou Bo there is nothing to wonder even if Chinese naval ships and submarines are appeared regularly in the Indian Ocean.
He said that the maritime security in the Indo-Pacific cannot be more important for China, as it is one of the largest trading nation in the world.
Bo said that the Chinese navy has to protect its overseas interests such as the safety of personnel and security of property and investment, as much of these are along the voyage of the Indian Ocean.
He said that as a fellow oil importer, India needed to have a better understanding of China's requirements, with four-fifths of Chinese imports passing through the area.
He said that India alone cannot assure the security of the Indian Ocean, even if it regards the Indian Ocean as its backyard and wishes no one to intervene with it there.
That is why counter-piracy has been organized with navies from more than 20 countries, including China and India. He added that China is not jostling with India for strategic influence in the Indian Ocean.
The link between protecting China's economic interests and submarine deployments has not often been articulated by PLA strategists.
Chinese diplomats have justified submarine deployments as part of its efforts to jointly combat hijacking and protect international ships in the Indian Ocean.
With PLA Navy submarines docking in Sri Lanka and Pakistan, Indian strategic experts have debated whether there was a message to India in the deployment.
Video on Chinese submarines in Indian Waters

Comments