Back to Home
China to construct superhighway to Pakistan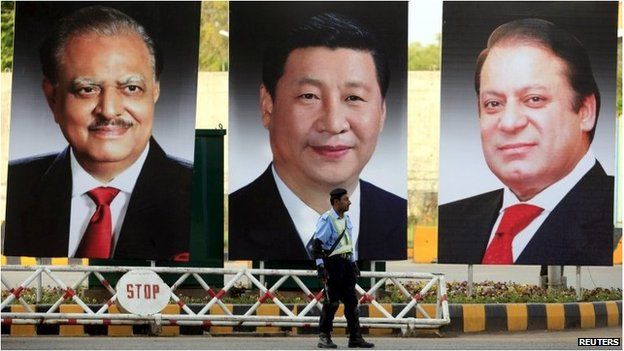 Islamabad: President of China Xi Jinping has signed agreements with Pakistan which promise them to invest $46bn (£30.7bn) for the overall developments of the country. As per the long duration alliance agreement, the spending is mainly focused on building a China-Pakistan Economic Corridor (CPEC). This is a construction network of railways, roads and pipelines between the two countries.
The proposed corridor runs between Gwadar in Pakistan and Xinjiang in Western China region covering a distance of 3,000km (1800 miles). The projects will enable China to have direct access to the Indian Ocean and beyond.
It is hoped that the project can offer a major advancement in China's plans to boost its supremacy in Central and South Asia. According to correspondents the economic assistance from China will be exceeding the ongoing US spending in Pakistan.
Mushahid Hussain Sayed, chairman of the Pakistani parliament's defense committee said that as far as China was concerned, their relationship with Pakistan had got outstanding importance. Meanwhile, Pakistan is expected to strengthen its ailing economy and overcome chronic power shortages.
Prime Minister of Pakistan Nawaz Sharif said that their alliance with China had been blossoming in-spite of the political changes and major regional developments occurred over four generations. He has also added that their relations were based on shared ideals as well as principles of mutual trust, mutual benefit and mutual respect.
Now, Pakistan is of the hope that the proposed Chinese investment will enable them to recover from the economic crisis and transform themselves into a regional economic hub. Ahsan Iqbal, the Pakistani minister overseeing the plan, told that the projects were very substantial as well as tangible and would have a significant effect with respect to transformation.
Pakistan's neighbor and rival, India, will be watching these developments closely. Delhi is very vigilant over China's regional ambitions, despite India's markedly improved relations with China in recent years.
President Xi had visited Delhi last year, after postponing his visit to Islamabad because of anti-government protests. Indian Prime Minister Narendra Modi is expected to visit China next month.
Video on China's proposal to construct superhighway to Pakistan

Comments